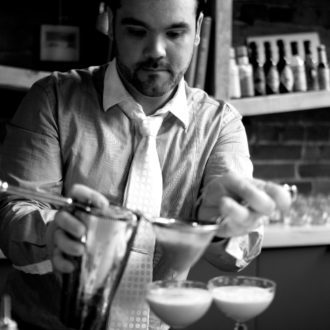 Shaun Layton's Perfect Vancouver Day 
Planning a trip to Vancouver, B.C.? There's no better tour guide than one of the city's most talented bartenders, so we tapped Shaun Layton of L'Abbatoir to walk us through his perfect Vancouver day.
Shaun Layton: Start off with a walk in the quiet and beautiful West End, which is my neighborhood. The West End has been dying for a neighborhood place with good coffee. Nestled in a residential part of the city, GreenHorn has great coffee, as well as a nice selection of baguettes and bottled sodas.
Next, stop for breakfast at Wildebeest. They have the best Croque Madame I've had outside of France. There's a chill, kicked-back atmosphere at Wildebeest, with cider on tap and refreshing cocktails.
A walk through Stanley Park is a must. Avoid the crowded seawall for the whole time (it is beautiful) and discover some cool trails to places like Beaver Lake. After a long walk go for sushi. Sushi is pretty unbeatable in Vancouver. For cheap and cheerful hit Sushi Mart. Great prices, really fresh salmon sushi, and friendly staff. For modern high end with a great view check out Miku, the salmon or mackerel oshi are two of the most ridiculous things I've ever eaten.
Avoid downtown's crowded beaches and hit Spanish Banks to watch the sunset. With the backdrop of the North Shore mountains, it's pretty hard to beat.
After that, stop for dinner at Espana, a friendly neighborhood Spanish restaurant opened by a couple of industry pros. The menu changes often, and they've got a great, concentrated wine list, a cool sherry program, and a small cocktail list. I've never had a bad dish there—try the house made morcilla, and the chicken liver on toast!
After dinner head down the street to The Bayside Lounge. Overlooking English Bay, this bar is so stuck in the '80s! Stick to bottled beer and highballs and enjoy the people watching and neon lights.
You can't miss having cocktails in Gastown. It's hard to pick one place, but I can narrow it down to five. L'Abattoir (where I work, of course), The Diamond, The Pourhouse, Notturno, and Pidgin. All of these great bars are within five minutes of each other, so take your time and enjoy!