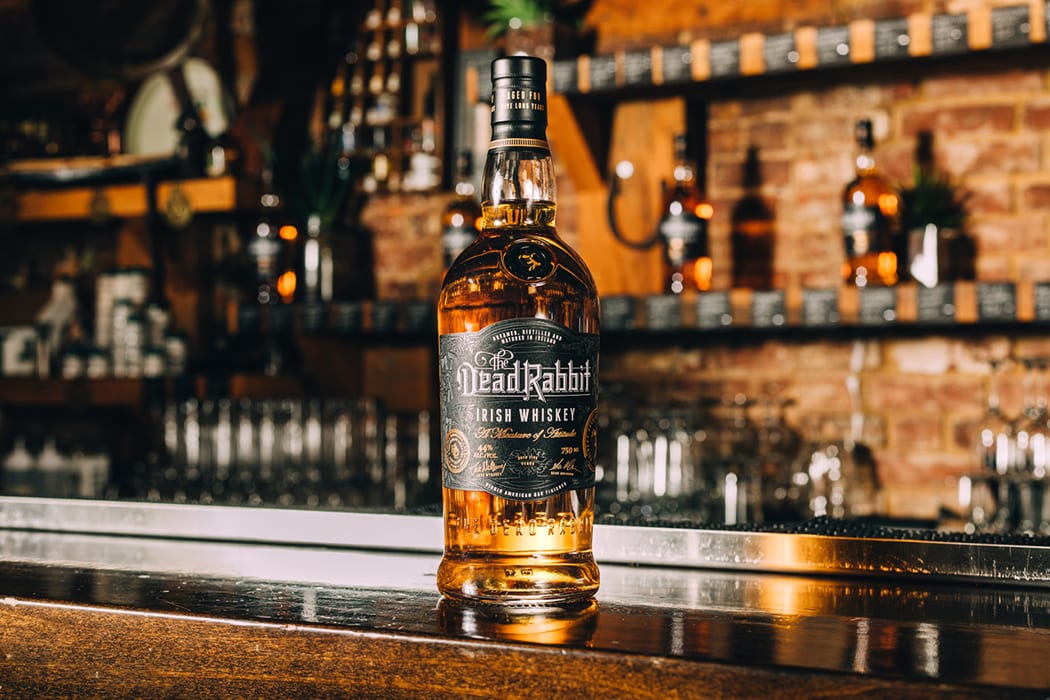 The Irish whiskey category has long been synonymous with the iconic Jameson brand, but take a closer look at the booming category these days and you'll find some intriguing new options. Today's producers are experimenting with everything from single-grain releases to aging in various kinds of barrels. Here are five ways to kickstart your tasting adventures.
Dead Rabbit Irish Whiskey
It's no surprise that Sean Muldoon and Jack McGarry, proprietors of a New York bar that houses one of the largest collections of Irish whiskey in the United States, would create their own whiskey. To celebrate the fifth anniversary of The Dead Rabbit Grocery & Grog, Muldoon and McGarry teamed up with Darryl McNally of The Dublin Liberties Distillery to make this impressive  release. A blend of Irish single malt and grain whiskey, the liquid is aged in used bourbon casks for five years and then finished in smaller, custom virgin American oak barrels. Expect notes of toffee and vanilla supporting a bed of pure grain flavor. $39.99, warehousewinesandspirits.com
Egan's Vintage Grain
Tapping into the single-grain whiskey trend, this new release from sixth-generation bonder Jonathan V. Egan is distilled three times and aged in American oak for eight years before bottling. Bursting with personality, the non chill-filtered whiskey offers a bedrock of dry grain flavor with notes of marzipan and fudge. $35, klwines.com
Glendalough 13 Year Single Malt
This new Irish distillery first released the Double Barrel whiskey in 2016. Two new expressions have joined the lineup this year, both of which explore the flavor potential that can happen when the whiskey is aged in different types of barrels. The 13 Year Old Single Malt is a truly unique bottling—aged in Japanese Mizunara oak sourced from the forests of Hokkaido, the whiskey has a strong woody flavor that's layered with a honey and dark chocolate sweetness. $90, binnys.com
Slane Triple Casked 
With time spent in medium-char virgin American oak, bourbon and Tennessee whiskey barrels and Oloroso sherry casks, you might think this whiskey from the Slane Distillery north of Dublin would have an overbearing woody quality, but this blend is supremely balanced between a soft raisin and butterscotch sweetness with spice and tannin. At the lower price point, it's a great foray into the world of modern Irish whiskey. $27, totalwine.com
Tyrconnell 15-Year Madeira Cask Finish
From the Kilbeggan Distilling Company, the Tyrconnell brand is most recently lauded for their 10-year cask finished whiskies. The newest is aged for 15 years in bourbon barrels and subsequently finished in Madeira casks from Portugal. It's a single malt whiskey with great complexity but a lighter body than some others. It just hit the U.S. market this month. $100, reservebar.com
---
Did you enjoy this article? Get more of the best of liquid culture when you sign up for a print or digital subscription to Imbibe Magazine. Click here for special savings!