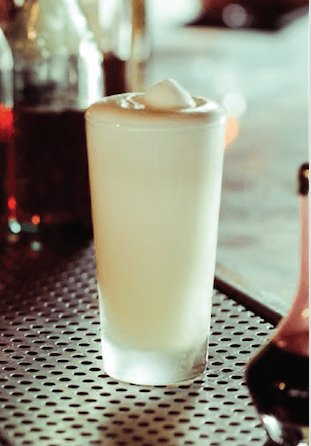 Photo: William Hereford
Fizzy is always festive, and this frothy, floral sipper from NYC's famed Death & Co. is precisely that.
Celine Fizz
2 oz. London dry gin
¾ oz. St.-Germain liqueur
¾ oz. fresh lemon juice
¾ oz. simple syrup (1:1)
1 fresh egg white (pasteurized if you like)
Club soda
Tools: shaker tin, strainer, fine strainer
Glass: fizz glass
Combine all ingredients except the soda water in a shaker tin. Dry shake (no ice) vigorously for 20 seconds, then add ice and shake again to chill. Double-strain into a fizz glass. Top with soda water.
Reprinted with permission from
Death & Co
by David Kaplan, Alex Day, and Nick Fauchald, copyright © 2014. Published by Ten Speed Press, a division of Penguin Random House, Inc. Photography © 2014 by William Hereford.