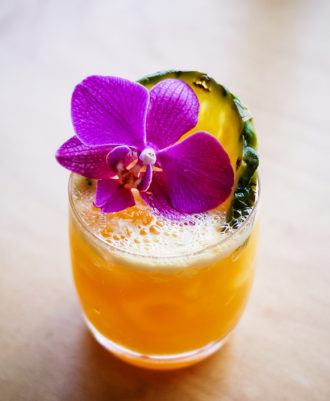 Nothing says springtime like an abundance of fresh fruits and veggies. This punch recipe will hit the spot with its tropical vibes and fizzy ginger beer.
1 bottle gin (Cardinal Spirits Standard Dry)
25 oz. carrot juice
19 oz. pineapple juice
12 ½ oz. fresh lemon juice
24 oz. ginger beer (more or less to taste)
Glass: punch bowl
Garnish: pineapple slices and edible flowers (optional)
Combine all the liquid ingredients in a punch bowl with one giant ice cube or several large cubes. Serve in glasses with ice. Garnish. Makes 12+ servings.
Baylee Pruitt, The Bar at Cardinal Spirits, Bloomington
---
Get more great cocktail recipes when you sign up for our bi-monthly magazine. Subscribe now and save up to 59%—it's just $21.95 for one year or $32.95 for two years. Click here for details.