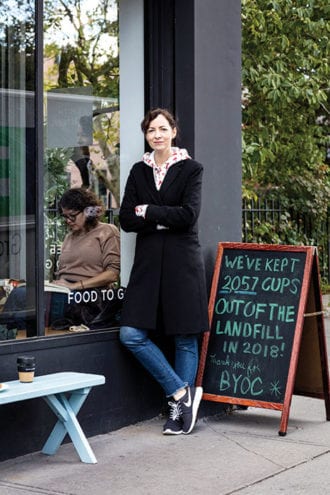 Plastic lids, cups and straws, coated cups, bags and boxes—these are just some of the nonrecyclables moving through coffee shops every day. Not wanting to continue contributing to this mountain of waste, last summer Kerry Diamond set an ambitious goal for her Brooklyn café, Smith Canteen: to eliminate single-use plastic by January 2019.
Smith opened in 2011, and at the time, Diamond says being green wasn't part of the café's conversation. "The coffee world seemed more focused on where the coffee was originating, fair-trade practices, etc.," she says. "We thought we were being good and doing good. We made almost all of our food from scratch, we had a mindful coffee supplier, we were purchasing a lot from the green market across the street, we donated money to the local school and park."
Back then, Diamond (who also serves as editor in chief of the food-centric publication, Cherry Bombe) wasn't part of the shop's day-to-day activities, but when she and her then-partner split, she got more involved and discovered how much waste the café was creating. "I realized I needed to make some changes because it didn't mesh with my beliefs in terms of being more environmentally responsible," she says.
Diamond drew inspiration from, among other places, Ancolie, a New York City restaurant that serves to-go food in reusable glass jars. But transforming a business model based largely on to-go purchases into the greenest coffee shop in Brooklyn, and one of the most environmentally responsible coffee shops in America, posed a unique challenge.
One of the first steps was to promote the 10 percent discount the shop had always offered to customers filling reusable cups (Smith also sells them). "We can track the number of times our BYOC discount is used," Diamond says. "It's a drop in the bucket, but when you think about how many cups were kept out of the landfill, that's a nice number. When we started promoting the initiative, there were days when the BYOC discount was barely used. Now, we never dip below a dozen and have had as many as 30."
In addition to phasing out single-use plastics, like straws and lids (plastic straws are still available upon request for those who need them, such as the physically disabled), Diamond says she's examining how to make back-of-house activities greener, including composting, reducing food waste, rethinking how goods are ordered and delivered, and switching to eco-friendly cleaning supplies. "You really need to look at every single thing you do."
It can seem like an insurmountable task, but Diamond is determined to succeed and to be a model for other cafés looking to go green. "Failure is not an option," she says. "It's going to take a lot of education and creativity to make it happen, but we're committed."
---
Did you enjoy this article? Get more of the best of liquid culture when you sign up for a print or digital subscription to Imbibe Magazine. Click here for special savings!