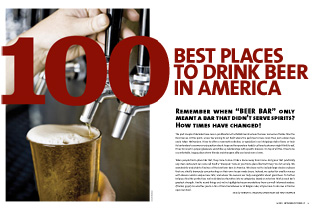 For our Sept/Oct issue, we tap into the best of beer culture, scouring the country for our favorite places to gather for finely crafted brews and convivial atmosphere. From California beachfront to the backcountry of Maine, we've found the spots with the most intriguing bottle lists, the most awe-inspiring tap selections and the most knowledgeable bartenders. Call your friends and make a date, because we just found your new favorite place to buy a round.
Plan your next pint with a detailed map of our picks, courtesy of Imbibe reader, Joe Germuska.
Here are a few highlights from our list. For the full list, check out the Sept/Oct 2008 issue of Imbibe.
100 Best Places to Drink Beer in America

We tap into the best brews to be found coast to coast.
Story by Imbibe staff