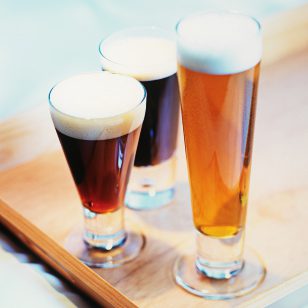 "The key to great Thanksgiving beers is caramelization," says Garrett Oliver, brewmaster at Brooklyn Brewery. "It's the caramelized flavors of the turkey skin, the gravy and many other elements of the meal that tie the whole thing together." And with an abundance of those flavors gracing holiday dinner tables, there are plenty of beer styles to complement everything from turkey to cranberry relish. Citrusy white ales highlight holiday spices, while creamy, chocolaty stouts pair perfectly with brown sugar-crusted ham and pecan pie. Oliver opts for darker versions of French and Belgian farmhouse and abbey ales for their rich flavors of herbs, dark fruit and caramel. "I've always enjoyed beer far more than wine with Thanksgiving dinner, and I know plenty of other people do also," says Oliver. "I've pretty much converted everybody I know!"
Here are 10 beers we'll happily sip alongside the turkey this year.
Aecht Schlenkerla Rauchbier Marzen 5.4% ABV
The intense smokiness of this rauchbier can make a delicious pairing with a plate of sharp cheddar or aged gouda, or a smoked turkey topped with rich gravy.
Brooklyn Brewery Black Chocolate Stout 10.1% ABV
Like biting into chocolate-covered espresso beans, this is a serious stout. Rich and creamy, with hints of roasted coffee, dried fruit and caramel, sip it after dinner with strong cheeses or a chocolaty pot du creme.
Deschutes Jubelale 6.7% ABV
Cooking up a duck for this year's holiday dinner? This is your beer. With a touch of caramelized sugar flavor and plenty of spice and dark fruit notes, this holiday ale is also a great match for a slice of pecan pie or some crème brulee.
Dogfish Head Sixty-One 6.5% ABV
Can't decide between wine and beer? This hybrid brew from Delaware's Dogfish Head means you don't have to thanks to its blending of the brewery's popular 60-Minute IPA and Syrah grape must from California.
Fantôme Saison 8% ABV
This saison freshens up a sleepy palate with tart and tangy flavors that offer just a hint of barnyard and spice. Fruity and complex, sip it solo or throughout Thanksgiving dinner.
Jenlain Ambrée 7.5% ABV
Malty and rustic, this dark French farmhouse ale tastes like autumn—complete with earthy notes of cinnamon, caramel and apple skins. Plus, it's Champagne-cork enclosure makes it perfectly festive for holiday toasts.
New Belgium 1554 5.5% ABV
Dark and creamy with aromas of roasted nuts, coffee and caramel, serve this smooth, crowd-pleasing brew with creamy chestnut soup, pungent soft cheeses or chocolaty desserts.
Ommegang Witte 5.1% ABV
Spicy coriander flavors mix with notes of tangy orange marmalade in this classic white ale. Lower in alcohol, this is a great beer to sip throughout the evening—from soups and appetizers all the way to dessert.
Sierra Nevada Bigfoot 9.6% ABV
This big, bold barleywine offers loads of chocolate, malt and molasses flavors that make a great match for a cheese plate, a slice of gingerbread or on its own as a post-dinner digestif.
St. Feuillien Brune Reserve 8.5% ABV
Brown ales are made for the full, rich flavors of the holidays, and with its fruity, spicy, malty notes and creamy mouthfeel, this one is a perfect match for roast turkey, stuffing and all the traditional trimmings.