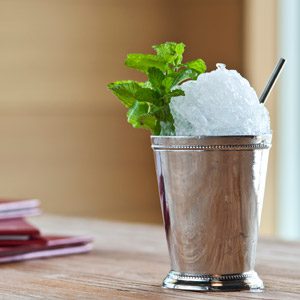 Fresh apricot syrup adds a splash of stone-fruit flavor to a rye- and Cognac-spiked julep.
1 1/2 oz. rye whiskey
1/2 oz. Cognac
1/2 oz. apricot nectar syrup (see below)
7-8 mint leaves
Tools: muddler, swizzle stick
Glass: julep
Garnish: mint sprig
Muddle the mint and apricot nectar in a julep cup. Add rye and Cognac and swizzle with crushed ice until glass is frosty. Top with additional crushed ice and garnish.
Apricot Nectar Syrup: Purée 1 cup of fresh apricots, 1 cup of sugar and 1 cup of water in a food processor. Cook on medium-low heat for 15 minutes and strain into a jar. Cover and keep refrigerated for up to 2 weeks.