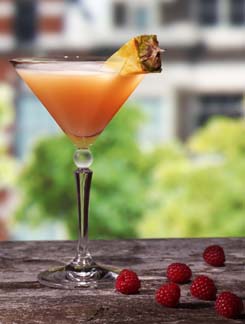 Tangy, tropical herbs and botanicals enhance this fresh sweet tea cocktail.
1 oz. Hendrick's gin
¼ oz. green Chartreuse
½ oz. Bols Sweet Tea liqueur
¾ oz. Small Hand pineapple gomme syrup
¾ oz. fresh lime juce
Dash fresh egg white (pasteurized if you like)
Tools: shaker, strainer
Glass: cocktail
Garnish: pineapple wedge
Combine ingredients and shake well with ice. Strain into a chilled cocktail glass and garnish.
Note: This cocktail can also be served in an old fashioned glass or julep cup over crushed ice in which case add a raspberry to the garnish.
Charlotte Voisey