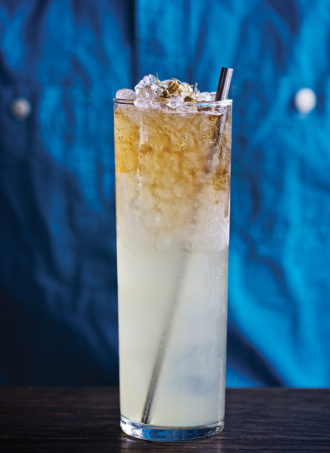 The bar team at Julep commonly taps regional and historic ingredients to make the house drinks. In this refreshing chamomile cocktail, bartender Kenneth Freeman uses the flowers to bring a perfume-like depth to the mix. Did you know chamomile was once used as a southern remedy for snake bites? That's where Freeman found inspiration for the creative name.
1½ oz. chamomile-infused gin
½ oz. fresh lime juice
½ oz. pineapple juice
½ oz. simple syrup
1½ oz. dry cider
Tools: shaker, strainer
Glass: Collins
Garnish: dried chamomile flowers (optional)
Shake all ingredients except the cider with ice and strain into glass filled with 4 large ice cubes. Top with crushed ice, fill with chilled cider. Garnish.
Chamomile-Infused Gin: Combine 7 oz. of London dry gin with 4 oz. of dried chamomile flowers; let soak for 3 hours. Strain before use.
Kenneth Freeman, Julep, Houston, Texas