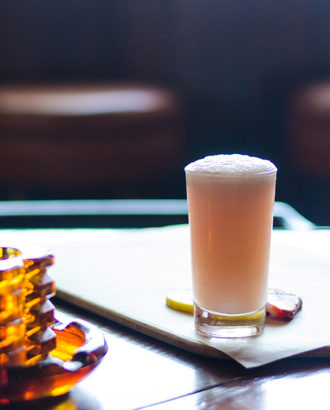 From the strawberry patch to the glass, this creamy fizz is the perfect match to a warm summer day.
1 ½ oz. strawberry-infused aged white rum
3/4 oz. fresh lemon juice
½ oz. vanilla liqueur (Ellis uses Giffard Vanille de Madagascar)
½ oz. simple syrup (1:1)
½ oz. milk
1 fresh egg white (pasteurized if you like)
Club soda
Tools: shaker, strainer
Glass: highball
Combine all ingredients, except the club soda, and shake hard with ice. Strain into a chilled glass and top with tonic.
Strawberry-infused rum: Hull and quarter 1 pint of fresh strawberries and combine with 1 750-ml. bottle if aged white rum. Let infuse for at least 24 hours, tasting occasionally until desired flavor is reached.
Sarah Ellis, Sycamore Den, San Diego