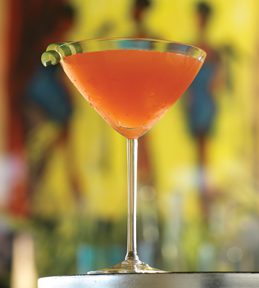 In our conversation with Tony Abou-Ganim, the cocktail legend revealed his affinity for Campari. With vodka as its backbone, this drink (named for chef Julian Serrano) combines Campari, limoncello and orange juice for a vibrant sipper.
1 1/2 oz. vodka
1/2 oz. Campari
1/2 oz. limoncello
1 1/2 oz. fresh orange juice
Tools: shaker, strainer
Glass: coupe
Garnish: lime twist
Combine ingredients with ice and shake well. Strain into a chilled glass and garnish.
Tony Abou-Ganim, The Modern Mixologist