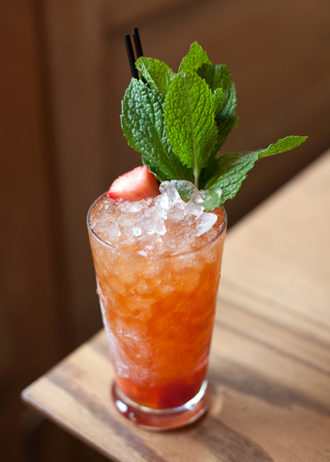 Imagine the boozy offspring of a Pimm's Cup and Jungle Bird, and that captures the essence of this frosty drink.
1 ½ oz. Pimm's No. 1
1 oz. Campari
¼ oz. blackstrap rum
½ oz. fresh lime juice
¾ oz. pineapple syrup
2 muddled strawberry slices
Soda water
Tools: shaker, strainer
Glass: Collins
Garnish: 3 strawberry slices, fresh mint sprig
Shake ingredients with ice to chill. Double strain into a glass, pile high with crushed ice, stir and garnish.
Pub Royale, Chicago