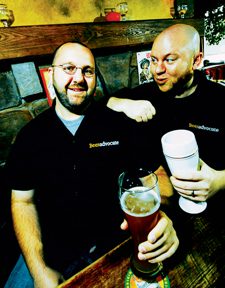 As the keepers of the much-beloved BeerAdvocate.com and all of the website's various spin-offs, brothers Jason and Todd Alström have spent over a decade turning a beer-fueled hobby into full-time work. Recently, the duo opened up about what's it's like to sample suds for a living, how much beer they drink in a day and how long they plan to keep it all going.
Imbibe: BeerAdvocate.com is entering its teen years—what's been the biggest surprise over the past decade-plus?
Alström brothers: We actually started in 1996, but re-launched as BeerAdvocate in 2000. Since then, our biggest surprise has been how huge this hobby gone full-time job has become, and how its growth shows now sign of slowing down. We're still the only two official employees, but we run a website with nearly 400,000 members and over 12 million page views per month; a monthly beer magazine; a bunch of beer fests and events; travel when time and budget allows; and have a ton of new projects in the pipes. Thankfully we get a ton of support from the community and work with some very passionate and talented people to help make it all happen.
Imbibe: As brothers, what's it like to work together? Do you have similar or conflicting palates?
Alström brothers: We work very well together, split up tasks and rarely disagree, but when we do it's always discussed over some beers until some form of common ground is reached. As for our palates, they tend to be similar, but not always, which adds some depth to our overall thinking and approach.
Imbibe: You probably get this all the time, but we've got to ask: How much beer do you generally drink in a day?
Alström brothers: On average, we each drink four beers a day. However, this average can easily increase depending on where we are and who we're with. Don't tell our doctors.

Imbibe: Did either of you have an Aha! moment with beer, or is it just something you've loved for as long as you can remember?
Alström brothers: We've always loved beer, since our first sips as kids in the '70s, but we've indeed had some epic Aha! moments:
#1: Todd was stationed in England during the late 80s/early 90s. It gave both of us a chance to explore the UK beer scene and gain some respect for its culture and beer styles.
#2: The craft beer revolution of the mid to late 90s, which ultimately begat BeerAdvocate. Aha! moments seemed daily back then.
#3: Our first joint trip to Belgium in 2002. We had both been before this separately, but on this trip we really gained an appreciation for the wide-range of creativity, attention to proper serving, and Belgian's openness to share their passion for good beer. We host a Belgian Beer Fest every year now in honor of our Belgian experiences.
Hell, let's be honest … there's potentially an Aha! moment in nearly every glass of beer.
Imbibe: What's your favorite food and beer pairing?
Jason Alström: Aged Gouda with a fresh American double IPA.
Todd Alström: Fish tacos with a crisp, clean, lager with a bite.
Imbibe: Are you both still active home-brewers? Would you ever consider opening your own brewery?
Alström brothers: We went from home-brewing once a week to not having the time, but we'd love to get back into it one day. Our retirement plan actually includes opening up our own brewery. And while we'd love to open something now, it's a costly project and we've been given this truly awesome platform to change the way people think about beer right now. Gotta use it.

Imbibe: What do you drink when you're not drinking beer?
Alström brothers: Coffee. Water. That's about it.
Imbibe: Beer is clearly a way of life for you both. Do you see yourselves still doing all of this when you're 90?
Alström brothers: Hell, yes. We're living the dream, and we're in this until we die.