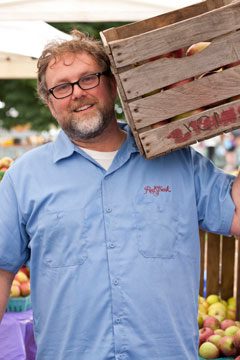 If real cider hasn't conquered the U.S. yet, it's about to. This spring, the old timey drink gets its biggest boost yet, with former Goose Island brewmaster Gregory Hall entering the game. Hall's Virtue Cider makes its debut in April with the release of RedStreak, an English-style draught cider. (Read about RedStreak and 49 other buzz-worthy drinks of the moment in the May/June 2012 issue of Imbibe.) We caught up with the brewer turned cidermaker, and here's what he had to say about the family business, his new global community and the future of cider in America.
Imbibe: How soon after Goose Island sold in 2011 did you decide to focus on cider? Was it an idea that you'd been entertaining for a while?
Gregory Hall: I've been interested in cider since 2000, when I took a group of Goose Island brewers over to England to visit traditional breweries: Fuller's, Young's, Marston's, Bass, Samuel Smith, Black Sheep, Theakston, etc. We spent a lot of time in the City of York and visited a great pub called the Maltings, which was having a cider festival. They had about 40 ciders from around the country—all were interesting, and many were remarkable, unlike anything I'd tried up to that point.
Imbibe: What was it about cider that attracted you initially?
GH: Right now, today, is the best time in history to be a beer drinker, right here in the USA. There are so many breweries brewing great beer in an ever-expanding range of styles. But cider is in the pre-embryonic stage, right where craft beer was when I started at Goose Island in 1988. Cider is a great drink with a lot of history in the U.S., but most drinkers don't have access to good cider like they do with beer, wine and spirits. I plan to help fix that problem.
Imbibe: Have you had a smooth journey into cidermaking, or have there been humbling moments along the way?
GH: There has been a tremendous amount of trial, error and adjustment. [Virtue Cider employees] Emilia Juocys and Ryan Burk did almost 200 test batches, one bushel and three gallons at a time. We tried two dozen varieties of apples and almost as many yeast strains until we knew what we wanted to use. We learned a lot about apples and cider last fall.
Imbibe: Who or what have been your main sources of inspiration in cidermaking?
GH: There are so many. Tom Oliver and Mike Johnson in the U.K., the Duponts and the Drouins stick out in Normandy, plus Steve Wood from Farnum Hill [in New Hampshire] and Dan Young from Tandem Cider in Michigan. But by far my biggest inspiration has been my father [Goose Island founder John Hall]. He was my age, 45, when he left a very successful career in corporate finance to open a little brewery in Chicago. He had a vision of Chicagoans drinking local beer, which seemed absurd in 1988, but he took a giant risk and stuck it out through some very tough times in the early years. He put an enormous amount of trust in me to make the beer, he built a strong team and never, ever micromanaged us. If I have any success with cider, it's due to lessons learned from my dad.
Imbibe: Were your industry friends surprised when you announced you were going to focus on cider? Have they been supportive?
GH: Some knew I've been talking about cider for years, but others were surprised. Garret Oliver (of Brooklyn Brewery) has been super-supportive, as has the entire Chicago craft beer community.
Imbibe: As a longtime brewer, is cider-making a welcome change? What do you like about making cider? And what do you miss about brewing beer?
GH: What I miss about brewing beer is the brewers. I've had the pleasure to work with many talented, passionate people, and I miss the daily interaction very much. I enjoy cidermaking, applying a lot of what we did at Goose Island toward cider, barrel aging, alternative fermentation, blending—it's a blast. Plus I get to work with apple farmers, who are all very authentic American heroes. So much of farming has gone corporate, but there are over 1,000 apple growers in Michigan alone, and most are small family farms. I love that.
Imbibe: On your website, there are great photos of your kids helping out with the cider—has this been a family affair for you?
GH: Goose Island was a family affair, and my two kids were pretty upset when we sold. They had lived their whole lives as the "Goose Island kids." They were too young to really understand what went on and why the decision was made—they were just sad. My plan is to keep Virtue smaller and give them the opportunity to join the business if they want. I had so much fun (most of the time) working with my father—I would love to work with my kids someday.
Imbibe: Cider is obviously experiencing a renaissance at the moment—what do you think is the reason for that?
GH: There are some pockets where local cider makers are strong: Oregon, New England and Michigan come to mind. Plus you've got Crispin doing a great job marketing cider, appealing to the craft beer drinker and getting great distribution. Boston Beer is more committed to cider then ever with Angry Orchard. So many Americans care about the environment and sourcing clean, local food—cider is the obvious drink choice for them.
Imbibe: Given that the cider revolution is still picking up steam, you must find yourself in the role of educator or cider evangelist from time to time?
GH: Absolutely, and I'm very comfortable in both roles.
Imbibe: Do you think real cider is misunderstood?
GH: Was beer misunderstood in 1988? Cheese in 1975? With limited choice, there is bound to be limited understanding of the possibilities, but cider struck much faster than beer did, for many reasons.
Imbibe: Does your cider tend to surprise first-timers?
GH: There have only been a handful who have tried it so far. All of them have commented on the balance of complexity and smoothness. That makes me happy.
Imbibe: Is there one message you'd like to send to American drinkers about cider?
GH: Read your labels. The best ciders are made from apples, but some have quite a few ingredients.
Imbibe: What are your hopes and plans for RedStreak? Do you have other cider projects in the works?
GH: I hope our first batch of 950 kegs makes it until fall. We will keep RedStreak draught-only in Chicago and Michigan. The next markets will be New York and Portland in the fall, with a couple more ciders, which are already aging in barrels. They will be very good.
TAGS: {cptags}