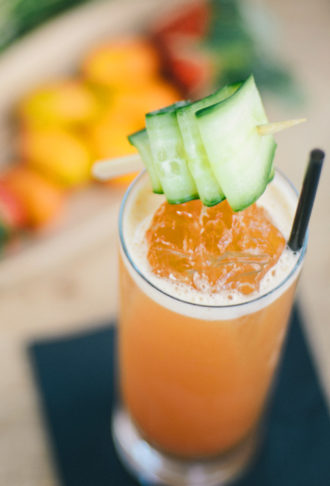 Just in time for strawberry season comes this dreamy combo of aged rum, Fernet, strawberry and ginger.
1½ oz. Rhum Barbancourt Reserve Speciale, Aged 8 Years
½ oz. Fernet Branca
1 oz. strawberry syrup
1 oz. ginger syrup
2 dashes of Peychaud's bitters
Tools: shaker, strainer
Glass: Collins
Garnish: cucumber ribbon
Combine ingredients in a shaker with ice and shake to chill. Strain into an ice-filled Collins glass and garnish.
Strawberry Syrup: Cut up 1 quart of fresh strawberries and combine them with 1 quart of sugar.  Lightly crush the strawberries to express them into the sugar.  Let the mixture sit for 24 hours then combine with 1 quart of hot water. Stir the mixture until it has dissolved, then strain it into a container.
Ginger Syrup:  Juice 1 part fresh ginger, 2 parts rich simple syrup (2:1 sugar to water) and 3 parts lime juice. Combine ingredients together and fine strain into a container.
Zach Lynch, The Ice Plant Bar, St. Augustine, FL