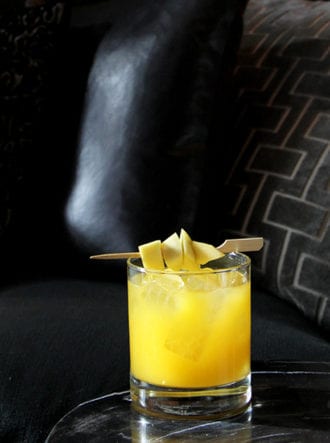 Playing with the framework of classic Pisco Punch, this riff gets a tropical upgrade with mango and coconut water. Chili-infused pisco adds a little heat to the mix.
2 oz. Thai chili-infused pisco
¾ oz. coconut water
¾ oz. mango purée (Perfect Puree is a good option)
¾ oz. fresh lime juice
¾ oz. simple syrup (1:1)
Tools: shaker, strainer
Glass: rocks
Garnish: mango cubes
Combine ingredients in a shaker with ice. Shake until chilled and strain into a glass with fresh ice. Garnish.
Chili-infused pisco: Cut 3 dried Thai chilis length-wise, let sit in one 750 ml. bottle of pisco for 3 hours, agitating often. Strain out the chilis.
Brian Sturgulewski, Dogma Group for Presidio, Chicago