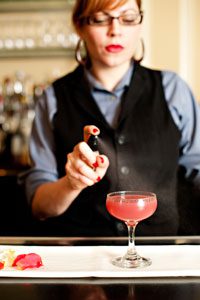 This is a bright and cheery combo of vodka, hazelnut-infused orgeat, grenadine and citrus.
2 oz. vodka
1/2 oz. hazelnut orgeat (see below)
1/4 oz. grenadine
1/4 oz. fresh lemon juice
Tools: shaker, strainer
Glass: coupe
Garnish: mist of rose water
Combine all ingredients in a shaker with ice and shake. Strain into chilled coupe and top with a mist of rose water.
Hazelnut orgeat: Heat oven to 400 degrees F. Coarsely crush 1 lb. of hazelnuts in a bag with a mallet or pulse briefly in a food processor. Place the crushed hazelnuts on a baking sheet and toast in the oven for 5 minutes, shaking several times. Place the toasted nuts with 3 cups of turbinado or demerara sugar and 1 1/2 cups of water in a pot and bring to a low boil. Reduce heat and simmer for 5 minutes. Remove from heat, cover and refrigerate overnight. Strain through a cheesecloth-lined strainer into a clean glass bottle. Add 4-5 dashes of rosewater and stir.
Gina Kent, Bradstreet Crafthouse, Minneapolis. Reprinted with permission from Northstar Cocktails. Published by Borealis Books.