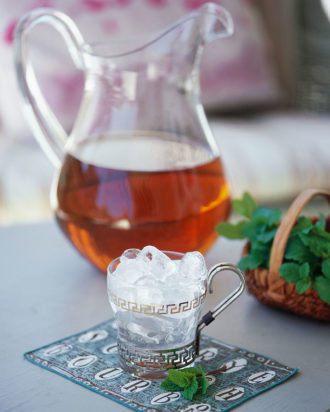 Hosting a Derby Day party? Streamline the Mint Julep-making with this super-simple punch.
2 cups water
⅔ cups sugar
3 cups loosely packed mint leaves
2 cups bourbon
Ice cubes or crushed ice
Tools: strainer, pitcher
Glass: julep or Old Fashioned
Garnish: fresh mint sprig
Combine the water and sugar in a saucepan over medium heat; stir until the sugar dissolves. Add the mint and bring to a boil. Remove from the heat, cover and steep for at least 30 minutes. Strain liquid into a pitcher and cool. Add the bourbon, refrigerate until cold and serve over ice with a fresh mint garnish.
Reprinted with permission from Porch Parties: Cocktail Recipes and Easy Ideas for Outdoor Entertaining by Denise Gee