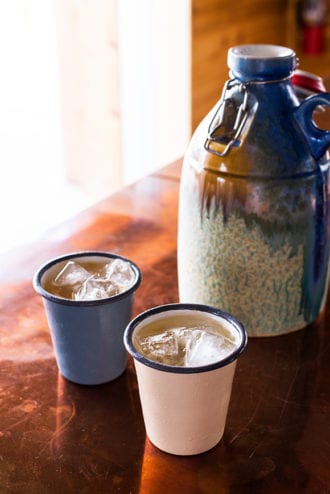 This pitcher cocktail gives new meaning to tea time, as an Earl Grey syrup adds extra depth to a mix of gin, plum brandy and lemon juice.
9 oz. London Dry gin
3 oz. slivovitz
4 oz. Earl Grey syrup
4 oz. fresh lemon juice
6-8 oz. soda water
Combine all the ingredients in a pitcher and stir with ice until chilled.
Earl Grey Syrup: Bring 32 oz. of water and 1 oz. of tea (by weight) to a boil, then remove from the heat and let sit for 15 minutes. Strain the tea from the water, then combine the water with 32 oz. of granulated sugar and stir over low-medium heat until the water and sugar are combined. Bottle and refrigerate for up to 2 weeks.
Leigh Lacap, Campfire, Carlsbad, California
---
Like what you see? Get more great cocktail recipes when you sign up for our bi-monthly magazine. Subscribe now and save up to 59%—it's just $21.95 for one year or $32.95 for two years. Click here for details.