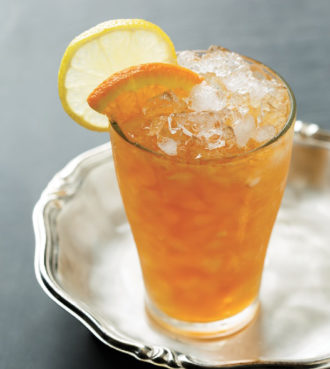 The Moral Suasion is delicious variation on the classic Peach Suasion and Honey Suasion cocktails.
2 oz. peach brandy
1 tsp. Luxardo maraschino liqueur
1 tsp. orange Curaçao
1 tsp. honey syrup (1:1)
2 tsp. fresh lemon juice
½ tsp. rosewater
½ oz. Cognac or Armagnac (VSOP or XO)
Tools: shaker, strainer, barspoon
Glass: tumbler
Garnish: lemon wheel, half an orange wheel and a few berries, in season
Combine all ingredients in a shaker with ice and shake until chilled. Strain into a small tumbler full of cracked ice. Float Cognac or Armagnac on top. Garnish. To float the brandy, hold a barspoon bowl-side facing down, with the front edge of the bowl touching the rim of the glass just at the surface of the drink. Slowly and gently pour the Cognac over the back of the spoon. Rotate the glass to let the layer spread.