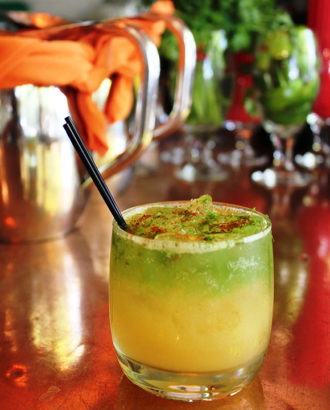 Bartender Eddie Johnson calls this cocktail an elevated agua fresca with fresh citrus, cucumber and melon playing off the savory notes of paprika and cayenne.
2 oz. fresh cantaloupe purée
1 oz. fresh lime juice
1 1/2 oz. Hendricks gin
1 1/2 Tbsp. baker's sugar
1 oz. cucumber water
Tools: shaker, strainer
Glass: Old Fashioned
Garnish: lime zest, paprika and cayenne
Combine first 4 ingredients in a shaker and shake to chill. Float the cucumber water on top and dust with lime zest and a mix of paprika and cayenne pepper.
Greg Hoitsma, Andina, Portland, Oregon