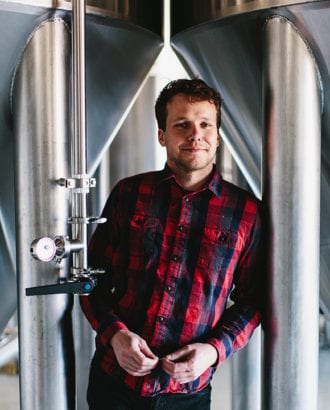 Belgian brewers aren't often persuaded to leave home for new adventures in beermaking overseas, but that's exactly what Joran Van Ginderachter did when he left to join Atlanta start-up Three Taverns.
The beer bug bit Van Ginderachter early; his first interest sparked while studying microbiology in high school. "Fermentation is part of microbiology, so we visited breweries to learn about it," he says. "I have an interest in all sorts of agriculture, fermentation, cooking, because you start from scratch and make a product that's something totally different in the end. That's intriguing to me."
After pursuing a degree in chemistry, he interned at New Belgium (his uncle is brewmaster Peter Brouckaert), and he worked for Brouwerij van Honsebrouck and Brouwerij Bockor in Belgium. In 2011, he also co-founded Brewing Resistance, or Brouwers Verzet.
Meanwhile, in Atlanta, homebrewer Brian Purcell was working on turning his hobby into a business. Instead of stepping into the brewmaster spotlight himself, Purcell aimed to find someone with commercial experience to helm the brewing operations. "I was so inspired by the culture that surrounds beer in Belgium, I thought maybe it would be possible to hire a brewer from Belgium to work here," he says, adding that the brewery's motto is "Belgian inspiration, American creativity." After research, he discovered only two Belgian brewers working in the U.S. at the time: Peter Bouckaert at New Belgium and Steven Pauwels of Boulevard Brewing.
It was Bouckaert who connected his nephew with Purcell. "Peter said to me, 'It might be hard [to convince a Belgian brewer to come to the U.S.], because Belgians are born with a brick in their stomach.' What that means is that most Belgians die in the first house that they buy. They don't move, they don't leave. They're born Belgian and they die Belgian, in Belgium," Purcell says.
But Van Ginderachter isn't your typical Belgian. Inspired by the experimental freedom the American craft beer movement afforded, and further driven by his time interning at New Belgium with his uncle, the leap of faith seemed like a logical next move. "The beer culture in Belgium is normalized," he says. "People are used to it, because it's always been there and it's a part of life. What I missed was the exploration aspect. We got that a little bit at Verzet, but I still wanted to do something abroad. For Americans, [beer] is something new. People are in full exploration of all the different styles, and there are almost no boundaries because there aren't recipes that have been around for 300 years. That's a big difference. There was always part of me that wanted to work outside of Belgium."
After getting used to the sweltering Southern summers and big-city energy of Atlanta, Van Ginderachter settled into Three Taverns, blending his education in traditional European beer making with the highs and lows of the experimental freedom that comes with brewing in the States.
Purcell describes him as having a quiet, studied confidence and a scientific approach to projects. "He would tell you that he's the Belgian smarts and I am the American craziness in the brewery," Purcell says. "But I've seen him stretch and grow over the last four years. I think it's been a journey for him to give himself permission to take risk and do things differently than he's been trained to do. But he has—he's an asset to the company."
Quality and consistency are top priority for Van Ginderachter, but he's not afraid to experiment. Purcell points to the playful Sour Asylum series of beers, a rotating set of quick-soured beers (also known as Kettle Souring). Beers like the raspberry-forward Rapturous and American-style A Night On Ponce IPA have become some of the best-sellers, in addition to one of Van Ginderachter's favorites, The Prince of Pilsen. Brewed in honor of Belgium's entry in the 2014 World Cup, the beer is dry-hopped with Citra hops, adding an aroma and flavor of an IPA but with more bready texture and a classic Pils-like finish.
Purcell couldn't be happier. "He's really learned to open his mind and explore, and I think he's only at the beginning of what's ahead of him in exploring the many different things we can do in America, because there are no rules in American craft brewing."