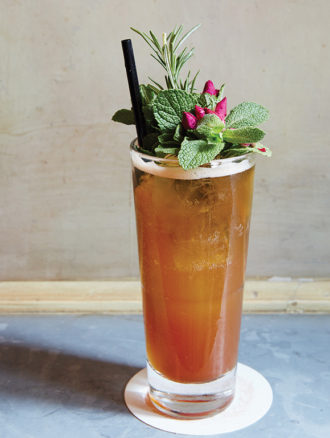 A new variation on the classic Pimm's Cup appears seasonally at Maison Premiere. For this version, fresh mint offsets the rich flavors of bourbon and grapefruit, as well as the color and aroma of dried rosebuds in the garnish.
1 oz. Pimm's no. 1
¾ oz. bourbon
½ oz. grapefruit cordial
½ oz. fresh lemon juice
¼ oz. ginger syrup
¼ oz. Strega
3 leaves fresh mint
4 dashes Angostura bitters soda water, chilled
Tools: shaker, strainer, fine-mesh strainer
Glass: Collins
Garnish: mint, dried rosebuds, rosemary
Shake ingredients with ice, fine-strain into an ice-filled glass. Top with soda water and garnish.
Grapefruit cordial: remove the zest from 4 grapefruits; set aside. Juice the grapefruits and measure the amount of liquid; add the juice to a covered container with an equal amount of sugar and the zest. shake until the sugar dissolves, then refrigerate for 24 hours. strain into a bottle and refrigerate for up to 2 weeks.
Ginger syrup: Juice 1 lb. of fresh ginger with a juicer (or place in a food processor and process into a pulp; then strain the liquid through cheesecloth). measure the liquid and combine with an equal amount of sugar, stirring to combine. refrigerate for up to 1 week.
Stephen Palahach and Will Elliott, Maison Premiere, New York City