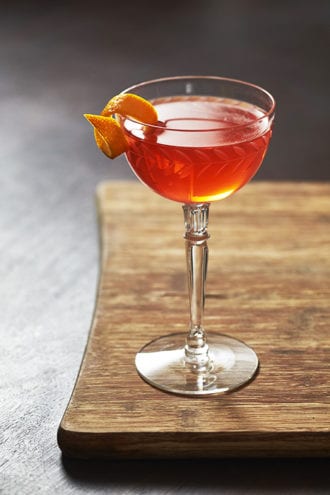 Named for the French Olympic fencer popular in the early 20th century, the Lucien Gaudin is a classic gin cocktail in the neighborhood of the Negroni but with amplified flavors of bitter orange from the addition of dry vermouth and orange liqueur.
1 oz. London dry gin (Tongue-Cut Sparrow uses Tanqueray)
½ oz. Campari
½ oz. Cointreau
½ oz. dry vermouth
Tools: Mixing glass, barspoon, strainer
Glass: Nick and Nora
Garnish: orange twist
Build all ingredients in a mixing glass and stir to chill. Strain into a Nick and Nora glass and garnish.
Adapted by Alex Negranza, Tongue-Cut Sparrow, Houston
---
Did you enjoy this recipe? Sign up for our newsletter and get our favorite drink recipes of the moment in your inbox every month.