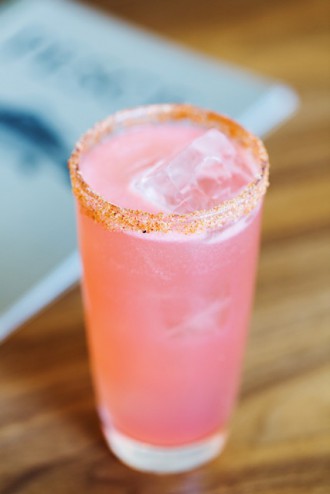 Fatima Wehidy takes the idea of using salt solution in cocktails to the next level here, using a smoked sea salt in place of plain kosher salt. Find a variety of smoked salts at specialty shops or online. We love the selection available at The Meadow.
1 oz. mezcal
1 oz. blanco tequila
1 oz. fresh grapefruit juice
½ oz. fresh lime juice
½ oz. diluted agave (1:1)
½ oz. Campari
1 dash chili tincture
2 drops smoked sea salt solution
club soda
Tools: shaker tin, strainer
Glass: Collins
Garnish: lime wedge
Rim a Collins glass with a combination of smoked paprika, sugar and sea salt. Combine all ingredients except seltzer in a shaker tin with ice. Strain into a Collins glass over fresh ice. Top with soda and garnish.
Smoked sea salt solution: Combine 1 tsp. of applewood-smoked sea salt with 10 tsp. of water. Stir until the salt has dissolved.
Chili tincture: Combine 2-3 dried spicy peppers with 1 cup of vodka. Let sit for 1 week. Strain out the peppers and reserve the infused liquor until use.
Fatima Wehidy, Pesce, San Francisco