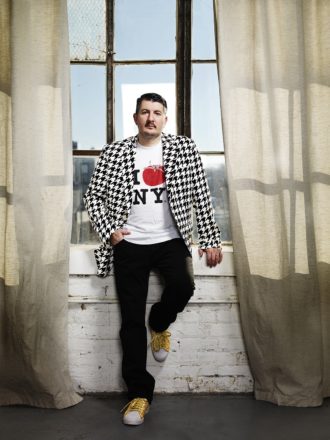 As the Director of Brand Education at Pernod Ricard, Chris Patino's job is all about exploring every opportunity and learning as much about the industry as possible. Before starting at Pernod, Patino took a long and winding road across the country with various jobs along the way, but bartending captured his attention. After completing bartending school in Los Angeles, he worked at an Irish pub in New Orleans, where he had several interactions with brand reps with little understanding of the products they were representing. That inspired Patino to spend more time getting educated and sharing his knowledge with others. In 2006 he started working as a brand ambassador for Absolut Vodka and Plymouth Gin in New Orleans before eventually relocating to New York and moving up within the company to where he is today. Patino took some time to chat with Joshua Harris of The Bon Vivants (and Pig & Punch) about his role at Pernod and how he likes to spend his time outside of the industry.
JH: Tell us a bit about what your job entails.
CP: I don't think I even quite understand what my job title means. I deal with anything that touches how our brands—and the stories behind them—reach bartenders, bar owners and consumers. I run a program called BarSmarts, which is the foremost bartender education program in the U.S. right now. It's one of the industry-leading programs for spirits education and bar techniques. We partnered with Beverage Alcohol Resource to bring that program to life. And I run our Ambassador Program for the portfolio–it's a lot of work, but I enjoy what I do.
JH: What do you enjoy most about your job?
CP: Some of the most memorable parts of my job are getting to interact with the trade and serving as the face of Pernod Ricard. I really love educating people and changing people's perceptions or minds or opinions. I like engaging the trade and developing programs and things that reach a larger audience. I host SpeedRack, which is an all-female bartending competition that not only raises up women in our industry but also supports breast cancer research. During the event, I'm on stage for four hours with nothing but a microphone between me and hundreds of people. I love doing that because it makes me feel good and I'm supporting a great cause. I also enjoy supporting Pig & Punch and participating in the day of service.
JH: With so many programs being developed by Pernod and so many being pitched to you, why have you decided year after year to support Pig & Punch?
CP: It's making a difference beyond just the day to day of our jobs. Sometimes the bartending industry can get a bad rep based on the industry that we're in. I think standing together as a unified front and giving something back and showing people that we care is important. These issues pressing everyone else in the world matter to us as well.
JH: The line between work and play sometimes becomes very blurry in our business. To the outsider looking in we get to go to parties, travel and have the opportunity to try all sorts of things. What do you do when you're not at work?
CP: It's easy to have this lifestyle consume you, but having a family keeps me grounded. When I come home, I'm home. I also love nature. Living in NYC makes it a little less approachable because you have to make a concerted effort to go out and see nature. I grew up in a family that loved camping and backpacking—I've backpacked the Grand Canyon from rim to rim, north to south. I just enjoy quality time with family and catching up with friends.
JH: What's your favorite travel destination?
CP: I love Copenhagen. I think it's a city that everyone should see. It's one of those cities that still has old-world charm that wasn't affected by the World Wars, so when you're there it kind of gives you a sense of how things maybe once were. Other than that, I love the island of Curaçao if I'm just trying to relax.
JH: What's your most memorable fine-dining experience and your favorite low-key local spot?
CP: A few years ago, we took Chef Grant Achatz of Alinea on the road. We brought Alinea to four different cities in the U.S. That was probably the most awesome experience ever because we brought the entire restaurant on the road and served the exact same tasting menu that he was serving at Alinea at the time, down to the dessert course. Afterwards, we ate at Alinea again in the actual restaurant, and it was just as good on the road. I thought, "This guy's consistency is out of this world—how is he doing this?" As far as low-key, I love a peanut butter bacon hamburger from Yo Mama's in New Orleans. It's something I look forward to every year going back to Tales of the Cocktail. I can probably think of a dozen other places like that, but that one stands out.
JH: When you're at home or at your favorite local spot where you can order whatever you want, how do you like to drink Plymouth and Beefeater? Do you prefer one over the other, or is there a time and a place for each?
CP: If I'm relaxing at home, a 50/50 Plymouth Martini—or a Gibson if I have some decent onions around—is my dream drink. Add a little bit of orange bitters and I'll drink those all day—responsibly, of course. If I'm having a Gin and Tonic, that's where I'll throw in Beefeater.
Chris' Recipe
1 part Plymouth gin
1 part Dolin Dry
2 dashes Reagan's orange bitters
Filthy onion
JH: And now for a few rapid fire questions…
JH: Early bird or night owl?
CP: Night owl.
JH: Coffee or tea?
CP: Coffee, and tea!
JH: Forks, fingers or chopsticks?
CP: Fingers, man!
JH: Brooklyn or Manhattan?
CP: Manhattan.
JH: Tasting menu or a la carte?
CP: Tasting menu.
JH: Standard or automatic?
CP: I don't even have a car!