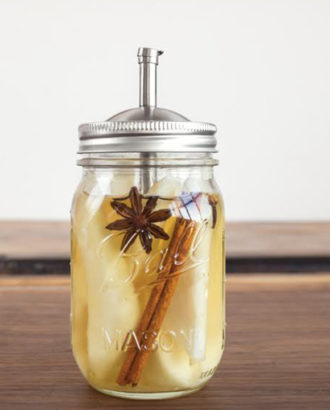 Fresh fruits are key in this seasonal homemade spiced pear liqueur.
7 oz. pear brandy or eau de vie (alternatively, you may use vodka)
3 oz. turbinado syrup
1 ripe pear, peeled and sliced into eighths
1 stick of cinnamon
1 small star anise pod
2 cloves
Combine all ingredients in a large jar, seal and shake for 30 seconds. Let infuse at room temperature for 24 hours. Strain through cheesecloth, squeezing to extract excess liquid and chill before serving. Refrigerate for up to 3 months.
Reprinted from Infuse: Oil, Spirit, Water by Eric Prum and Josh Williams. Published by Clarkson Potter, an imprint of Penguin Random House.