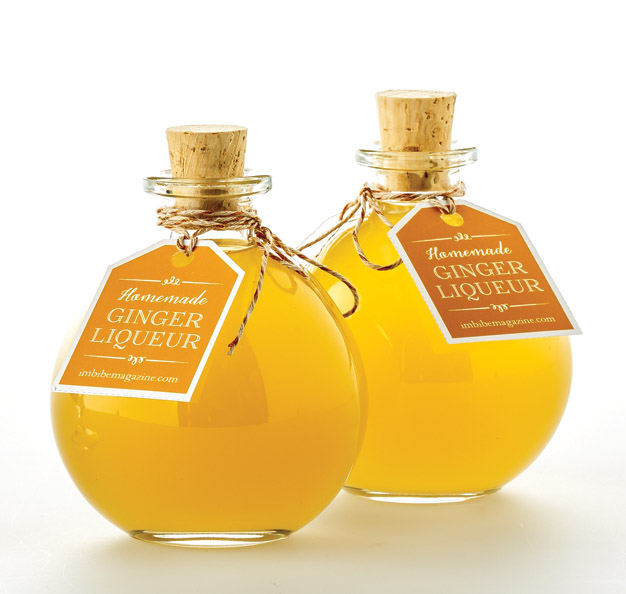 Spice up your summer sipping agenda with this simple recipe for homemade ginger liqueur. Infused with loads of peppery fresh ginger, orange zest and vanilla, and sweetened with a delicate ginger-chamomile honey syrup, this formula is our new favorite DIY recipe. Its rich, golden hue and tea-like ginger disposition brighten a cup of tea, add warmth to a glass of Champagne and lend a gingery kick to cocktails.
Ingredients
750 ml. unaged brandy
6 oz. fresh ginger, divided
1 cup water
1/2 cup honey
1 Tbsp. loose-leaf chamomile tea
1 whole vanilla pod
1 orange
Step 1
Peel and finely dice 4 oz. of fresh ginger. Combine the peeled, chopped ginger and brandy in a 1-liter glass jar. Cover, shake and store in a cool, dark place for 1 week, shaking daily.
Step 2
After 1 week, peel and finely dice the remaining ginger. In a small saucepan, combine this ginger with water, honey and chamomile tea. Bring just to a simmer, stir until the honey dissolves, remove from the heat and let cool to room temperature.
Step 3
With a vegetable peeler, remove the outer peel (or zest) of the orange, taking care to avoid the white pith. Use a paring knife to split the vanilla pod lengthwise. Add the orange peel and vanilla pod to the ginger-brandy mixture.
Step 4
Without straining, pour the ginger-chamomile honey syrup into the ginger-brandy mixture. Cover, shake and store in a cool, dark place for 1 week, shaking every few days.
Step 5
Fine-strain the liquid through multiple layers of cheesecloth (or use a nut-milk bag or coffee filter) while funneling into a clean glass bottle. Cap (or cork) and store at room temperature for up to 6 months.
TIP: For the best results, use an unaged grape brandy like a blanche Armagnac or a higher-proof quality grape spirit, or in a pinch, use a high-proof quality vodka.