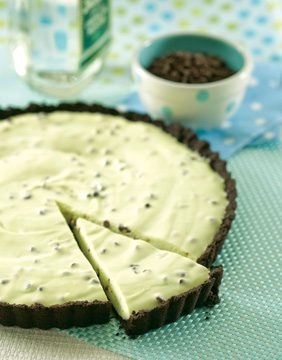 This retro-inspired dessert adds a cooling finish to spring celebrations with its generous pour of creme de menthe. Want to stick to the cocktail instead? Check out Paul Gusting's improved recipe here. 
Crust
32 chocolate wafer cookies, such as Nabisco, coarsely crushed
5 Tbsp. unsalted butter, melted and cooled
Filling
3 large egg yolks
⅓ cup sugar
¼ tsp. salt
1 ¾ cups heavy cream
2½ tsp. unflavored gelatin
¼ cup creme de menthe
2 Tbsp. crème de cacao
2 drops green food coloring (optional)
½ cup miniature semisweet chocolate chips
Preheat the oven to 350 degrees F.
To make the crust, place the chocolate wafer cookies in the work bowl of a food processor and process to fine crumbs. Add the melted butter and pulse to a blend.
Press the crumb mixture into the bottom and up the sides of an 11-inch tart pan with a removable bottom. Bake the crust until it looks set, about 10 minutes. Remove the crust from the oven and allow it to cool completely.
To make the filling, whisk the egg yolks, sugar and salt together in a medium bowl until thickened and pale yellow. Set aside.
Pour ½ cup of the cream into a small saucepan. Sprinkle with the gelatin. Let stand for 5 minutes to soften, and then cook over low heat for about 2 minutes, or until almost simmering (you will see steam rising from the surface of the milk and small bubbles forming at the edge of the pan). Remove from the heat.
Very slowly whisk a few tablespoons of the hot cream into the egg yolk mixture to temper it, and then whisk the yolk mixture back into the saucepan with the rest of the cream.  Cook over low heat, stirring constantly, 3 to 5 minutes, or until the mixture is thick enough to coat the back of a wooden spoon.
Remove from the heat and stir in the crème de menthe, crème de cacao and green food coloring, if using. Transfer the mixture to a large bowl and refrigerate for 20 to 30 minutes, stirring occasionally, until very thick but not quite set.
In a large bowl, whip the remaining 1¼ cups of cream with an electric mixer until soft peaks form. Stir 1 cup of the whipped cream into the mint mixture to lighten it. Stir in the chocolate chips and then fold in the remaining whipped cream. Spread the mixture into the cooled tart crust. Refrigerate the tart until chilled and set, about 6 hours.
Reprinted with permission from The Boozy Baker: 75 Recipes for Spirited Sweets by Lucy Baker. Published by Running Press.