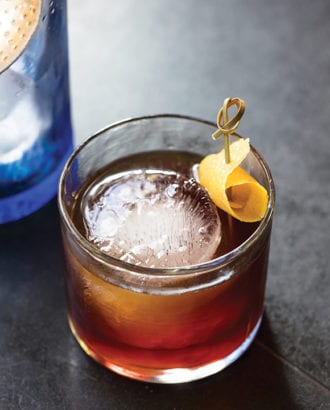 The winter menu at Grand Army—our 2017 Cocktail Bar of the Year—features several rich, robust drinks designed to keep drinkers warm until spring.
1 ½ oz. demerara rum (Grand Army uses El Dorado 12)
½ oz. overproof Jamaican rum (Smith & Cross)
½ oz. Pedro Ximenez sherry
2 dashes Angostura bitters
2 dashes orange bitters
Tools: barspoon, strainer
Glass: Old Fashioned
Garnish: flamed orange peel
Stir the ingredients with ice to chill, then strain into a glass over a large ice cube. Carefully flame an orange peel over drink and use as garnish.
Damon Boelte, Grand Army, Brooklyn