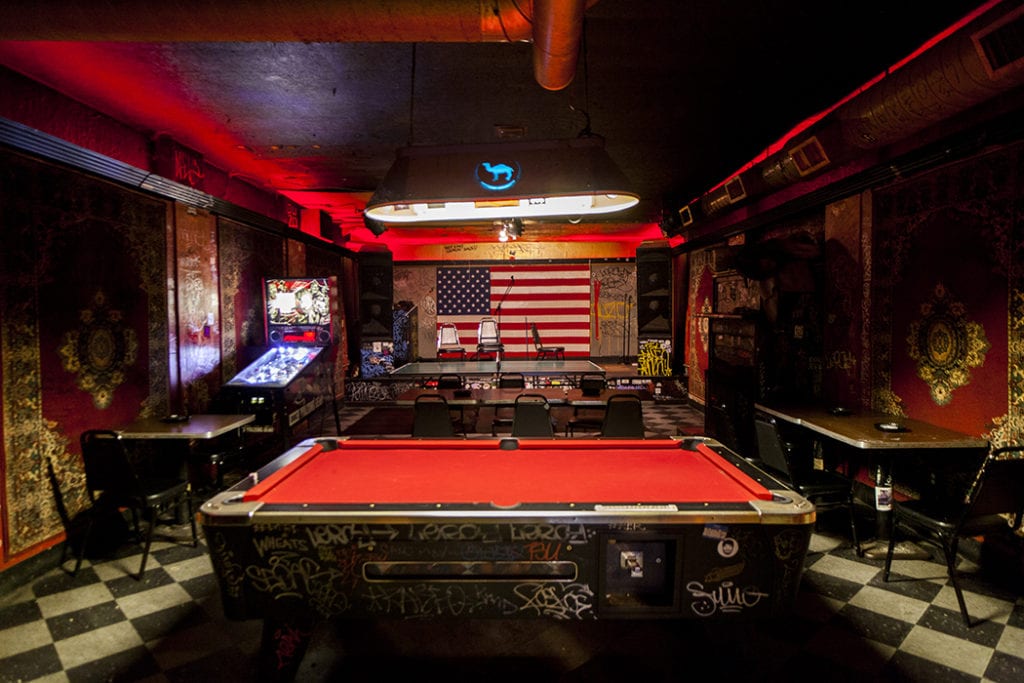 There may be no more perfect relationship than that of chefs and dive bars. For Brent Young, founder of Brooklyn shop The Meat Hook and culinary partner at Whitfield at the Ace Hotel Pittsburgh, the dive bar romance began in his twenties at Gooski's, a punk and metal club in Pittsburgh. "In college, you could go with your friends and for $20 get very drunk and listen to all the music you wanted at a really cool bar," he says. "There was something about being part of the scene if you went to Gooski's, because everyone who was in a band would go there."
Located in the Polish Hill neighborhood, Gooski's epitomizes all the best dive bar qualities, starting with the entryway. "It's a brick building with just one big sign, and a couple of beer signs in front, so there's an element of reveal when you walk in, because you walk past and you wouldn't think anything of it. The sign isn't even neon, it's just an old wooden painted sign and a red door with graffiti and band stickers," Young says.
You've gotta know where it is, and if you find it, it takes balls to walk through the door the first time. You're taking a chance. And then when you do, and the place is cool, there's nothing better.
Inside, dim lighting, graffiti-stained bathrooms, a jukebox and a long mirrored backbar plastered with bits of nostalgia complete the package. Gooski's doesn't have a website or Facebook page, and the staff has only posted two tweets since 2012. Publicity isn't a concern.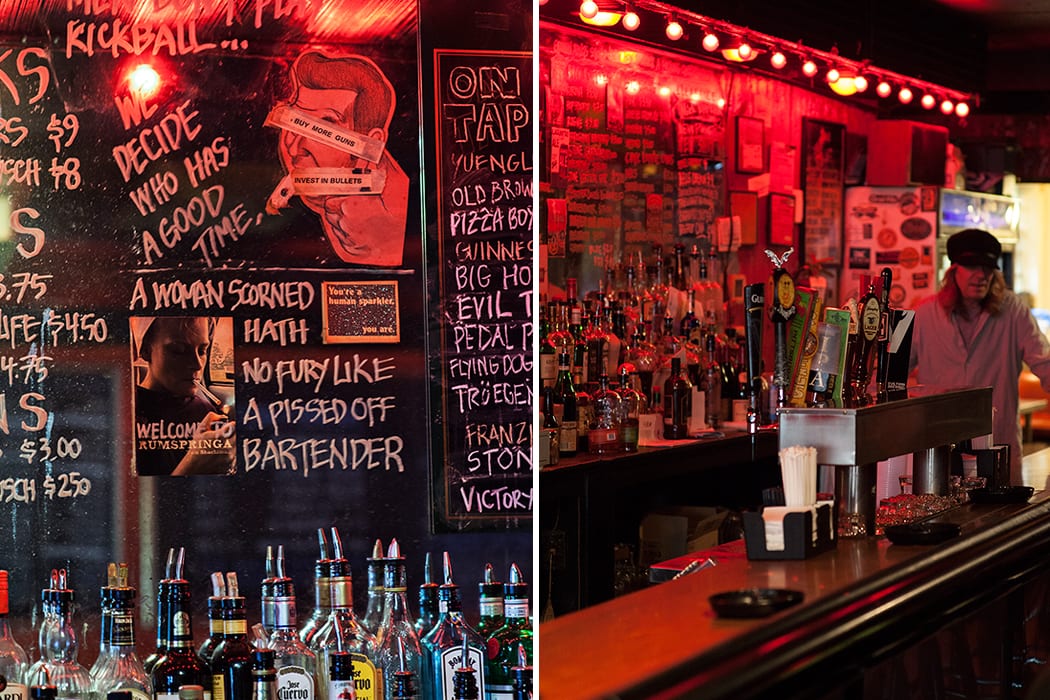 It's not unusual for plumes of smoke to billow out of the front door, as Gooski's is one of the few bars where guests are free to smoke at will. And taped behind the bar, a set of rules illustrates a no-nonsense attitude. "It says, 'know what you want, have your money ready, don't make us kill you, and if you bring someone here, you're responsible for them,' " says Young. "It's a pretty simple transaction."
That no-fuss approach is representative of most of Pittsburgh's drinking culture, says Young, who was born and raised there. "Pittsburgh has always been a shot and a beer town," he says, adding that neighborhood bars are a dime a dozen and locals find common ground over the daily beer special. "There are some new cocktail bars that have been popular, but generally, Pittsburgers are pretty thrifty. People always want bang for their buck." 
Which is one of the things Young appreciates about Gooski's. "They actually have a pretty extensive beer collection, but I don't drink fancy beer when I'm there. They have 24 oz. PBR pounders for $3.50," he laughs. "There's a Pennsylvania beer called Straub that's also a local favorite. It's like a better version of Yuengling, and those are $3."
Like that pair of jeans you wear until they fall apart, adopting a dive bar can feel like finding home. In Young's case, home hasn't changed much over the years. "It's still punk as fuck," he says of Goorski's. "It hasn't softened its edge whatsoever. If anything, it was probably softer when I was in college, or maybe I'm getting soft in my old age, but it hasn't changed at all—same crowd."
---
Like what you see? Get more of the best of liquid culture when you sign up for our bi-monthly magazine. Subscribe now and save up to 59%—it's just $21.95 for one year or $32.95 for two years. Click here for details.