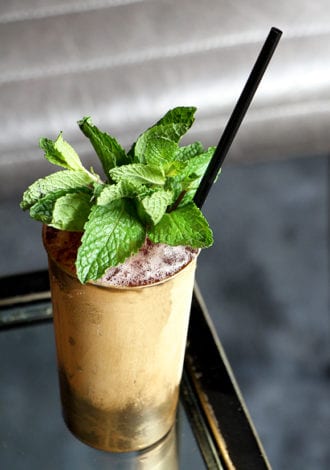 The spice of rye whiskey balances the sweetness of late-summer berries in this blackberry smash.
1½ oz. rye whiskey
½ oz. Amaro Lucano
½ oz. blackberry syrup
½ oz. fresh lemon juice
2 dashes Jerry Thomas Decanter Bitters
2 mint bundles
Tools: shaker, strainer
Glass: tin or Collins
Garnish: mint
Shake all ingredients (including one of the bundles of mint) in a shaker with ice. Double strain into a glass or tin. Garnish with the second bundle of mint.
Blackberry syrup: Heat 2 quarts of blackberries in a pot holding 1 quart of granulated sugar, 1 quart of water and 8 cinnamon sticks until the skin of the berries begins to pop open. Take off the heat and let steep for 30 minutes. Strain into a jar and refrigerate for up to 2 weeks.
Clint Rogers for Presidio, Chicago