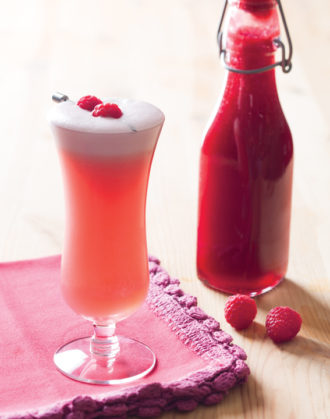 The Formosa Fizz cocktail was created by Portland bartender Jeffrey Morgenthaler and inspired by the classic Clover Club. In it, the spark of tequila is matched by the richness of raspberry syrup.
1½ oz. blanco tequila
¾ oz. fresh lemon juice
½ oz. raspberry syrup
½ oz. fresh egg white (pasteurized if you like)
¼ oz. rich simple syrup (2:1)
1½ oz. chilled soda water
Tools: shaker, strainer
Glass: small highball
Garnish: fresh raspberries (if in season)
Add all ingredients except the soda to a shaker and fill with ice. Shake until chilled and foamy. Strain into a glass and top with soda. Garnish.
Jeffrey Morgenthaler, Clyde Common, Portland, Oregon