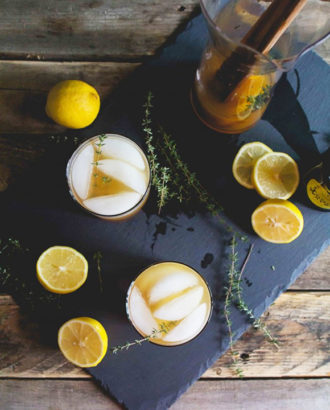 Fresh-pressed cider and garden-fresh thyme flavor this seasonal fall tonic.
12 oz. fresh apple cider
2 oz. fresh lemon juice
2 oz. thyme syrup
1 bottle (9.3 oz.) tonic water (like Fentimans, Q or Fever-Tree)
Tools: pitcher, wooden spoon
Glass: rocks or punch
Garnish: thyme sprigs and lemon wheels
Combine all ingredients, except the tonic water, in a pitcher and stir. Divide the cider mixture evenly among 4 ice-filled glasses. Top with tonic water, stir gently and garnish. Serves 4.
Thyme Simple Syrup: 
Combine ½ cup of granulated sugar, ½ cup of water and 2-3 sprigs of fresh thyme in a small saucepan set over low heat. Stir until the sugar dissolves and simmer for an additional 5 minutes, or until the syrup coats the back of a spoon. (While simmering, watch carefully so it doesn't boil over or burn.) Remove from heat, take out the thyme sprigs and cool to room temperature. Refrigerate for up to 3 weeks.
Reprinted with permission from Offbeatandinspired.com.