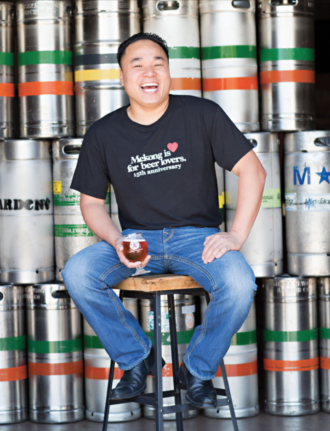 To find America's finest—and most improbable—beer bar, drive northwest out of downtown Richmond, Virginia, and start scanning the strip malls. West Broad Street's boxy shopping centers contain the quotidian businesses of Anywhere, America: car washes, pawn shops, auto parts stores, fast food joints, office supplies outlets. But between Banner Express and El Rey Latino Market sits Mekong, a Vietnamese restaurant with a sun-baked sign.
Crack the front door and you'll find tin signs touting Duvel, Kwak and Delirium Tremens. Customers will be slurping phở and chomping spring rolls, but instead of Tsingtao they'll sip Saison Dupont, Allagash White or a locally brewed gose from Strangeways, each served in style-appropriate glassware. "Mekong goes beyond the typical beer-bar mold," says CraftBeer.com publisher Julia Herz.
All credit goes to An Bui. Over the last 20 years, Mekong's co-owner and "chief beer officer" has transformed a struggling Vietnamese restaurant on the outskirts of Richmond into the city's central beer hub, a nationally recognized icon twice named America's top beer bar by CraftBeer. com's readers. "If you're going to be involved in the Richmond beer scene, Mekong is a rite of passage," says Brown Distributing craft and import director Jacob Brunow.
As Richmond's beer culture has boomed in recent years, with nearly a dozen local breweries, Bui has been a tireless booster and humble tastemaker. "He has built and maintained the credibility of local breweries," says Hardywood president Eric McKay. "If you're part of Mekong's tap lineup, it tells people what to expect."
But Bui might not be what you'd expect. In a gastropub-packed industry ubiquitous with beards and tattoos, Vietnam-born Bui stands apart. Around 5'7" tall, with a trim build, combed- back black hair, a smooth face and a warm, easy smile, the father of two favors button-downs or maybe a Mekong T-shirt—nothing too flashy. It's a casual look that puts folks at ease and greases the conversational wheels. "He doesn't just interact with people, he gets to know them," says Neil Burton, who founded Richmond's Strangeways. "He remembers their names, their wives' names, their kids' names and what they drink."
Friendliness and a steel-trap memory are important skills for the owner of a bar and restaurant, but curating excellent beer, and clearly and enthusiastically explaining its merits, is equally essential. "His passion is palpable, and if you don't know much about craft beer, you'll know quite a bit after just a few minutes with him," says Jennifer Carnam, the vice president of marketing for Richmond Region Tourism.
Minutes? Venture into Mekong, and you'll likely spend hours bending elbows at the bar. The restaurant features 52 drafts from local outfits like Hardywood and Center of the Universe to cultish craft brewers such as the Bruery, Cigar City and Switzerland's BFM. Taps turn quickly, with some beers barely lasting a day or two, ensuring freshness. "If a half-barrel lasts more than a week, we'll dump it out," Bui says.
Not that it's typically a problem—any beer on draft here is worth drinking. "People believe my taste buds," says Bui, who handpicks each brew. "We're setting a standard for all the beer bars in town," Bui says, later adding, "It didn't happen overnight."
The story of Bui and the restaurant started nearly 40 years ago in Vietnam, right after the end of the war. An's dad, Khoa, was captured, and "the choice was execution or prison," says Bui, whose father spent nearly nine years as a political prisoner. Upon release, his dad plotted a different escape. "He said, 'Kids, we have no life here,' " recalls Bui, one of nine children.
In 1986, 12-year-old Bui and his siblings (the oldest, Liem, was 24) boarded a small boat and spent seven days and nights sailing to Malaysia. "We were robbed by pirates, the engine died and we almost died," Bui recalls.
Khoa, who stayed behind in Vietnam with his wife, reached out to connections in the United States. A Richmond-based Catholic group sponsored the kids, and they soon took refuge in Virginia. After Bui's parents arrived in Richmond, in 1991, Khoa found that his kids were working all around town (Bui was a line cook at a Chi-Chi's Mexican restaurant). Why not run a business where everyone could work together? They pooled their pennies, took out a church loan and, in 1995, bought a Vietnamese restaurant for $70,000. Since Bui was studying hotel management at a community college, the 22-year-old became manager. The plan was to partner Vietnamese cuisine with wine. "We really struggled our first two or three years," recalls Bui, who began brainstorming ideas to broaden the restaurant's narrow appeal.
A few years earlier, a taste of Germany's rich, malty Paulaner Salvator had introduced Bui to beer's flavorful potential. He fell under the spell of fruity Belgian dubbels and potent tripels, appreciating how the sweetness complemented Vietnamese cooking. "Let's go where no one has gone and pair Vietnamese food with Belgian beer," he recalls of his idea to match, say, clay- pot chicken with St Bernardus Abt 12. To convince customers, he held free tastings. At first, one or two people showed up—but soon, five folks came, and then 10. "Once we switched over to beer, we expanded our radius," Bui says. "Instead of catering to a community, we catered to the whole state."
The restaurant became a destination, converting Vietnamese- food fans to Belgian beer, and beer lovers to Vietnamese food. "In most towns, you won't find beer nerds who have a favorite Vietnamese dish," says Brown Distributing's Brunow (he favors the beefy bo luc lac). For six or seven years, the plan worked perfectly; the restaurant expanded, annexing an adjoining electronics shop. Then the housing crash hit, and business nosedived. Bui stewed on a survival plan. "It hit me that we didn't carry draft beer," he says. Could that be the answer?
In summer 2006, he bought a used single-tap kegerator and poured Bell's Oberon. Sales were so strong that, within a week, Bui upgraded to three draft lines. By the month's end, there were six tap handles. He bought another kegerator and installed six more tap lines. Once again, beer provided salvation.
As a reminder to guests, the restaurant's motto became "Beer is the answer" (a phrase Bui heard someone shout at a beer fest), and Bui later changed Mekong's name to "Mekong Is for Beer Lovers." The name underscores Bui's commitment to his customers, who he also connects to on Facebook and Twitter (he was an early adopter of social media). On Monday nights, every beer—rare sours and IPAs alike—is $5. "We try not to rob the fan base," Bui says. "This is their Cheers."
To thank his customers for again voting Mekong America's best beer bar last fall, Bui offered $2 draft beers for a full week. "His success is a testament to his generosity," says Strangeways' Burton.
Another reason for Mekong's prosperity is Bui's willingness to shed his restaurant's skin. "As a business, you need to reinvent every four or five years," Bui says. From wine to Belgian bottles and draft beer, Mekong's nearly 20-year history can be defined by distinct eras. Now, he's ready for another reinvention. This fall, he transformed a neighboring Korean nightclub into a bánh mì–slinging brewpub called, fittingly, the Answer. (The bar is open, but brewing won't begin until the year's end.) The five-barrel brewpub will focus on fresh, hoppy ales à la Hill Farmstead, and will tap craft brewers to collaborate. In tandem with Mekong, Bui sees the brewpub (which will also contain a membership-only beer speakeasy featuring plenty of barrel-aged and sour beer, as well as '30s- and '40s-era live music) as creating a self-contained beer Mecca. "It's like a mall—you go to this department, you go to that department," Bui says.
As if creating a one-stop beer complex was not taxing enough, Bui recently bought Richmond's Commercial Taphouse, a linchpin of the city's beer scene for two decades. "I'd hate to see its legacy go away," says Bui, who updated the draft system and ditched the pub-grub standards, installing an Asian-fusion menu. The chef is his niece, the latest relative to join the family's burgeoning empire that now extends beyond Virginia. In Sandusky, Ohio, Bui's brothers Chuong and Khi run, respectively, a second Mekong and Small City Taphouse, both of which partner Asian food with craft beer. (Bui's parents now live in Sandusky.)
Even with the rapid expansion, Bui remains rooted at Mekong, where three siblings continue to work. He's still selecting the draft list, changing kegs and, in his neat script, writing the daily selections on a dry-erase board. "This is my backbone," Bui says. "When customers walk in, they know I still have a personal touch. Even if they don't see me here, they'll see me on the board. I'm sharing my love and passion."
This article originally appeared in the November/December 2014 issue.