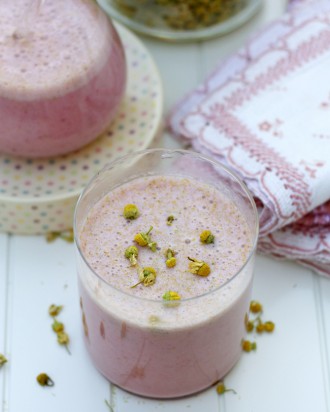 Blogger Rowena Dumlao-Giardina mixes up this smoothie when she needs a dose of health and serenity. Strawberries lend sweetness while chamomile works its calming magic, making this smoothie a perfect way to start or end the day.
1/2 cup brewed chamomile tea, cooled
1 cup regular or almond milk
1/4 cup cooked quinoa or old fashioned oats
honey to taste
1/2 cup strawberries (fresh or frozen)
Tools: blender
Garnish: 1 Tbsp. dried chamomile flowers
Combine the milk, chamomile tea, cooked quinoa (or oats) and strawberries in a blender and blend until smooth. Sweeten with honey to taste. Garnish.
Rowena Dumlao-Giardina, Apronandsneakers.com