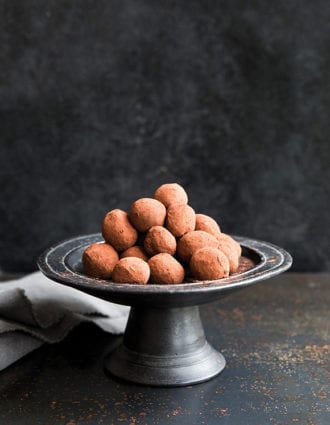 Easy to make and even easier to eat, these bourbon-spiked truffles from cookbook author Elisabet der Nederlanden are the perfect chocolatey treat.
¾ cup heavy cream
3 Tbsp. bourbon
3 Tbsp. maple syrup
2 Tbsp. firmly packed golden brown sugar
4 Tbsp. (2 oz.) unsalted butter, cut into small cubes
8 oz. bittersweet chocolate, finely chopped
½ tsp. kosher salt
¼ cup Dutch-process cocoa powder (*)
Tools: 1 ½-tsp. cookie-dough or ice-cream scoop (optional)
In a small saucepan, combine the cream, bourbon, maple syrup and brown sugar; place over medium-low heat; bring just to a simmer
and then turn off the heat.
In a medium glass dish (a 9-inch pie dish works well), combine the butter, chocolate and salt. Pour the warm cream mixture over the chocolate mixture. Let sit for a couple of minutes, then stir gently until the mixture is melted and it's well blended and smooth. Refrigerate, uncovered, for about 2 hours, or until firm.
Line an airtight storage container with parchment paper and set it near your work surface. Sift the cocoa powder into a small, shallow bowl.
Using the scoop or two teaspoons, scoop up a small amount of the chocolate mixture and quickly roll it between your palms into a ball about 3⁄4 inch in diameter. Gently drop the truffle into the cocoa powder, turn to coat evenly, and then place in the prepared container. Store in the refrigerator for up to 3 weeks. Let sit at room temperature for 15 minutes before serving.
Cocoa powder: Made from cacao beans, cocoa powder comes in two main types, natural and Dutch process. Natural cocoa powder, which has been processed with its acidity intact, is used in recipes calling for baking soda, an alkaline that reacts with the acidity of natural cocoa to leaven baked goods. In contrast, Dutch-process cocoa powder, which has been "washed" in a solution to neutralize its acidity, is typically paired with baking powder, which is a mixture of an alkaline and an acid. Natural cocoa powder (sometimes labeled "unsweetened cocoa powder" or simply "cocoa powder") is sharper flavored and lighter in color than Dutch process. Be sure always to use the type of cocoa powder called for in a recipe.
Makes about 42 truffles.
Reprinted from Holiday Cookies by Elisabet der Nederlanden, copyright © 2017 by Ten Speed Press. Photographs copyright © 2017 by Erin Scott. Published by Ten Speed Press, an imprint of Penguin Random House LLC.
---
Did you enjoy this recipe? Sign up for our newsletter and get our favorite drink recipes of the moment in your inbox every month.