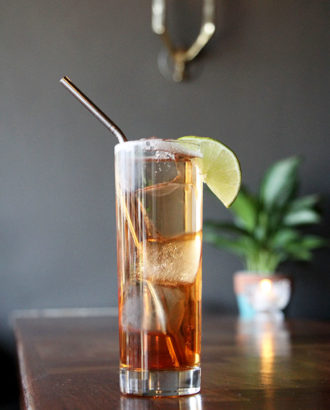 This tall cooler from Chicago's Billy Sunday is what beverage director Alex Bachman calls "along the lines of a carbonated, or longer version, of a gin gimlet." The drink will be served at sister restaurants Yusho and A10 Hyde Park through the end of May, with proceeds benefitting the Avon Foundation for Women.
2 oz. Masco plum pisco
1/2 oz. Navy strength gin (Bachman uses Hayman's)
3/4 oz. fresh lime juice
1 dash orange bitters
1/2 oz. simple syrup (1:1)
Tools: barspoon
Glass: Collins
Garnish: lime wedge
Combine all ingredients in Collins glass with ice. Top with soda water. Stir and garnish.
Alex Bachman, Billy Sunday, Chicago