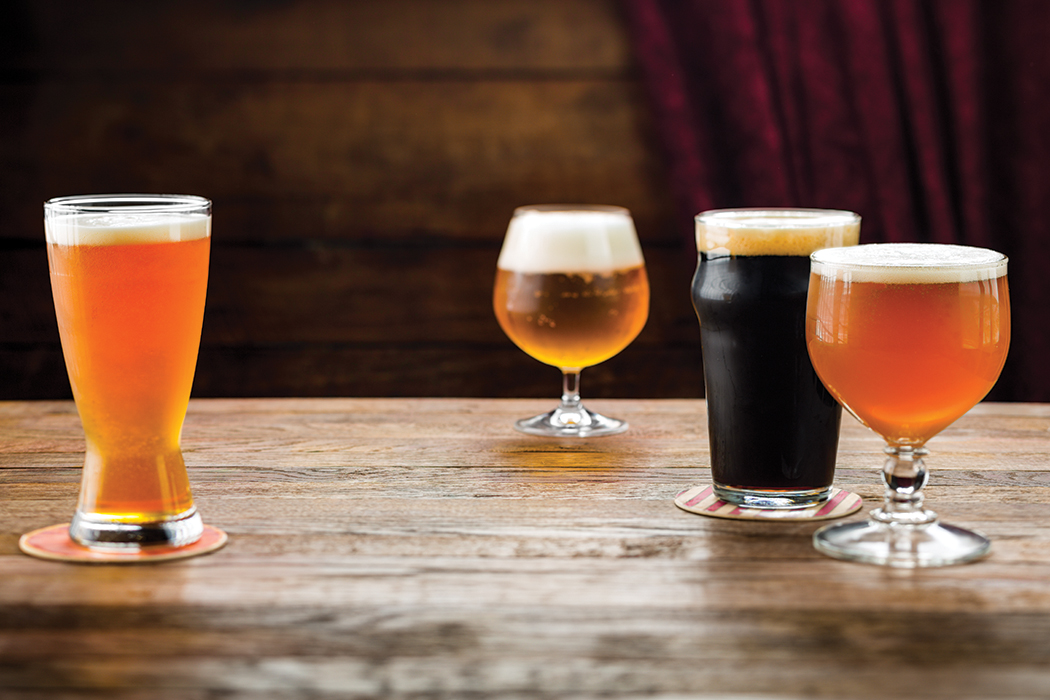 Bold, roasty, smoky, malty—just a few of the ways people often describe the flavors of fall beers. Wondering what you should be drinking as we transition to cooler weather? We asked a handful of beer pros around the country to recommend some of the best beers for fall sipping.
Avery Brewing Company The Kaiser
Boulder, CO, 5.6% ABV
Oktoberfest-style beers are typically low in alcohol (better for sipping over the course of a festival day), but this gem from Avery Brewing tips the scales at a hefty 10.2% ABV. Already on shelves, "this beer sets the high mark for the imperial märzen style, with the strong malty flavor you expect for Oktoberfest beer, but the strength to keep it as an end-of-the-night sipper," says Ryan Sweeney, co-owner Surly Goat and Verdugo Bar. "Although it's a massive beer, it still retains the qualities you would be looking for from its German counterparts."
Eagle Rock Brewery Döömläüt
Los Angeles, CA, 4.9% ABV
Smoky schwartzbiers are to fall what citrusy session beers are to summer, and this expression from Los Angeles' Eagle Rock Brewery is topnotch, Sweeney says. It'll be the first time the brewery releases the canned beer, offered as a counterpoint to their spring pilsener, Umlaut. "This is a roasty beer with hints of coffee and chocolate but with the light mouthfeel you expect from a lager. At 4.8% it's a great drink for those warm LA fall evenings." Watch for the beer to hit shelves in mid-October.
Founders Brewing Co. Breakfast Stout
Grand Rapids, MI, 8.3% ABV
"When I'm looking for something bigger, darker, thicker and deeper for the fall beer season, one of my favorites is Founders' Breakfast Stout," says Cameron Read, director of beverages and brewer at Edmund's Oast in Charleston, South Carolina. At 8.3% ABV, this brew packs a punch with two types of coffee and imported chocolate. It also has a luxurious mouthfeel thanks to an abundance of flaked oats. "With just the right balance of bitter roasted flavors and sweet malty goodness, it's hard not think about opening another bottle as the last few drops are drained whatever lace stained glass was lucky enough to receive a pour of this full bodied temptress," Read says. Watch for this year's batch to land in early October.
Jolly Pumpkin Artisan Ales Fuego Del Otoño
Dexter, MI 6.1% ABV
The Michigan brewery calls this Fall Saison a beer worth contemplating, and Katherine Kyle, general manager of Blind Tiger Ale House in NYC agrees. "It's lusty malts complemented by light spice and chestnuts finishes dry in a delightfully sour fashion. It points towards the deeper beers of the winter while still grabbing at what's left of the sun. The perfect beer for fall."
Saint Arnold Brewing Company Pumpkinator
Houston, TX, 10% ABV
It wouldn't be a fall beer roundup without at least one pumpkin brew on the docket, and Banger's Sausage House & Beer Garden beer buyer Courtney Strange picks this Imperial Pumpkin Stout as the most sought after down in Texas. Set to release in mid-October, this late fall warmer tastes like "rich pumpkin pie with chocolate frosting and a whiskey back," Strange says. We're compelled to agree; from our experience, it's every ounce as delicious as it sounds.
Sierra Nevada Brewing Company Harvest Newly Developed Hops IPA
Chico, CA, 6.5% ABV
"This fall we get to see the latest of Sierra Nevada's commitment to brewing great beer as part of the 2015 Harvest series which explores hopping methods including fresh hop, wet hop and wild hop beers," Blind Tiger's Katherine Kyle says. The aptly named "Newly Developed Hops" IPA is made with with a few kinds of brand new hops, known only as 472, 05256, 431, and 06300, with flavors of "cedar, coconut, chocolate, and orange-citrus," the brewery claims.
Westbrook Brewing Märzenbier
Mount Pleasant, SC, 6% ABV
"Maybe it's just in my head, but nothing makes me more excited about fall beer than German märzen beer! And Westbrook makes one shining, modern example of the style," say Read of Edmund's Oast. The German-style lager is brewed in a traditional manner with the requisite German malts, hops, and yeast, and "pours with a clear tarnished gold sheen," he adds. "A crackery, toasted malt backbone and a perfumed, floral hop aroma give way to a medium body, a hint of toffee, and an extraordinarily clean finish. It doesn't have the heft of a winter warmer or the invasive spicing of other fall offerings, but the beer is big enough (at 6% ABV) to herald the cooling weather yet still remain refreshing enough to warrant another pint (or three!)."
Anchor Brewing Company BigLeaf Maple Autumn Red
San Francisco, CA, 6% ABV
If you're not a fan of pumpkin beers, reach for one sweetened with maple instead. Chris Kafcas, beverage director at Fountainhead in Chicago, says Anchor Brewing's latest seasonal is a great option. "This beer offers a beautiful malt profile, hints of maple syrup, and just enough hops to round off the back," he says. "With a little dip in the weather temperature-wise this beer is just what I am looking for."
Firestone Walker Brewing Company Velvet Merkin
Paso Robles, CA, 8.5% ABV
The brand-new barrel-aged version of Firestone Walker's Velvet Merlin (a dry oatmeal stout) recently hit shelves and has been stirring up interest from beer lovers ever since. Kevin Floyd of Houston's Hay Merchant is a fan. "This beer is dark in color but surprisingly light in body. You get notes of dry chocolate milk with subtle notes of the barrels the beer was aged in," he says.
De la Senne Brusseleir Zwet IPA
Brussels, Belgium, 8% ABV
Surprisingly drinkable for it's hefty ABV, this Belgian Black IPA is a well-balanced example of the style. Avenue Pub owner Polly Watts says it's one of her favorite fall beers because "the roasty malts and the wonderful hops he uses complement each other perfectly." It's not the most widely available beer, but well worth seeking out.