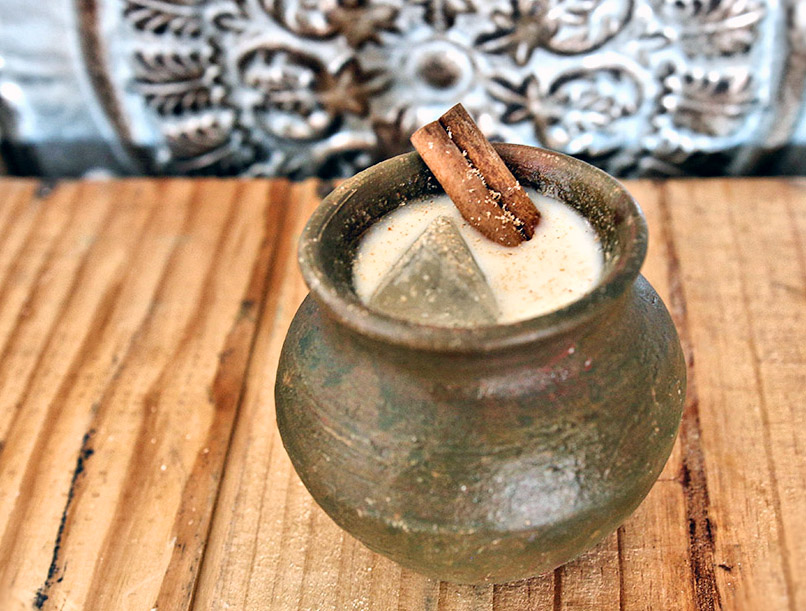 San Antonio's Mezcaleria Mixtli is one of many new cocktail bars looking to Mexican drinking traditions for inspiration. As part of the bar's "ancestral" drinks section, owner and beverage director Jesse Torres developed the Beso Totonaca (meaning "Tononac Kiss") as an homage to the indigenous people of the Veracruz region. The mezcal cocktail is a common refreshment throughout the area, he says. "Until the mid-19th century, the Totonac cultivated and produced the finest vanilla in the world. This creamy and cooling drink pays homage to that tradition and is as smooth as it is rustic with each sip revealing new layers of smoke, vanilla, and earth."
1½ oz. mezcal (Torres uses Montelobos)
2 oz. vanilla-cinnamon milk mix*
Tools: shaker, strainer, grater
Glass: clay jarrito
Garnish: cinnamon stick and freshly grated nutmeg
Combine ingredients in a shaker and shake to chill. Fine strain into a clay jarrito and top with ice. Garnish.
Vanilla-Cinnamon Milk Mix
Combine one 12 oz. can of evaporated milk with one 14 oz. can of sweetened condensed milk in a saucepan. Slit a vanilla bean lengthwise and remove the seeds into the pan along with the whole pod. Crush 3 cinnamon sticks and add to the pan. Simmer low for 20 minutes constantly stirring to avoid the milk from scorching. Strain, cool and bottle for storage.
Jesse Torres, Mezcaleria Mixtli, San Antonio