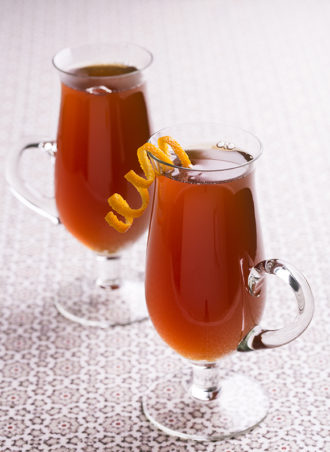 Rum and apple brandy bolster this fruitcake-inspired hot toddy recipe.
1 oz. dark rum
1 oz. apple brandy
¼ oz. amaretto
½ oz. cherry liqueur
1 oz. pineapple syrup
¼ oz. ginger juice (or 2 pieces of fresh ginger muddled)
½ oz. fresh lemon juice
1 oz. Earl Grey tea
3 oz. hot water
Tool: muddler, barspoon
Glass: 10 oz. heatproof cup or mug
Garnish: orange twist
Warm a serving cup by rinsing with hot water. Add ingredients to the glass and stir to combine. Garnish.
Michelle Shriver, Dutch & Company, Richmond, Virginia