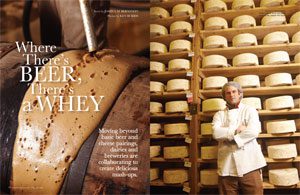 Eight years ago, on a fine afternoon in rural Greensboro, Vermont, a talented homebrewer hosted a BBQ at his eighth-generation family farmstead. Among the guests that day was a pair of cheesemaking siblings from a neighboring farm. Conversation drifted to the Belgian practice of "washing" farmhouse cheeses in beer, and the friends wondered what might happen if they combined their two crafts and made a beer-matured cheese of their own. "It was an experiment in terroir," says Shaun Hill, 32, a former homebrewer (and host of the BBQ) who today owns his own brewery, Hill Farmstead in Greensboro, a town of around 600 located in the state's lush and leafy Northeast Kingdom. Here, he creates hop-forward and barrel-aged ales named after his ancestors. For the experiment, he cooked up a not too bitter, not too strong ale made from the second runnings of a barleywine and brought buckets of wort (the liquid extracted from boiled grains) to his neighbor's cheese-aging cellar.
As the beer cooled, the microflora lurking in the cheese-ripening cellar colonized the sugary broth, spontaneously fermenting the brew, producing a sour lambic-like ale. The cheesemaker, Mateo Kehler, co-founder (with his brother Andy) of Jasper Hill Farm, blended the ale with salt and basted one of their raw-milk cheeses with the brew twice a week for 60 days. During that time, yeast and bacteria attracted by the moist surface and sugary beer settled into the rind, softening the cheese's interior. The finished fromage, dubbed Winnimere after a spot at a local lake where the Kehlers swam as kids, was a buttery, spoonable revelation: woodsy and smoky, with robust notes of tropical fruit and an earthy aroma. Consider it a brewery's romance with a dairy—fermented grains and water fall in love with fermented milk.
It'll Come Out in the Wash
Washing, or brushing, cheeses with brine, wine, cider or beer keeps them soft and moist. This encourages the growth of Brevibacterium linens bacteria that surface-ripens the cheese, resulting in an orange-reddish rind, stinky aroma and pungent flavor. Legendary breweries such as Belgium's Brasserie Dupont and Chimay have long washed homemade cheeses in their own beer.
As beer and cheese pairings have grown more commonplace in North America, farms and breweries, like Jasper Hill and Hill Farmstead, have built upon this affinity by incorporating craft brews into cheese production. "One of our sayings is, 'Cows don't eat grapes,' " says Brett Joyce, the president of Rogue Ales in Newport, Oregon, which partners with another, similarly named Oregon producer, Rogue Creamery, on a line of beer- and hop-infused cheeses. "There's a visceral connection between cattle and beer." You'll find this kinship at Pennsylvania's Keswick Creamery, which uses local Tröegs beer to create its washed-rind peasant cheeses, while Thirsty Dog Siberian Night Imperial Stout is the preferred wash for Ohio-based Mayfield Road Creamery. In upstate New York, Harpersfield Cheese soaks its cave-aged Tilsit cheese in saisons and abbey ales made by nearby Brewery Ommegang, while the seasonal beers of Minnesota's Summit Brewing Company are used to wash Caves of Faribault's blue cheeses. Naturally, they're aged in underground caverns once used to lager beer.
For dairies, one of the easiest methods of collaborating with a brewery is by using its beer to wash cheese. This does not mean that an IPA will impart biting citric bitterness or that an imperial stout will add tons of cocoa and coffee. What a wash imparts are merely accent notes of the selected beer's flavor profile. "Hitting someone over the head with a two-by-four will leave an impression, but nuances can also leave an impression," says Mark Stutrud, 59, the president and founder of Summit Brewing Company in St. Paul, Minnesota. In late 2008, Stutrud met fellow Minnesotan Jeff Jirik, the head cheesemaker at blue-cheese specialist Caves of Faribault, which had an unusually close relationship to beer. Faribault was once the site of Fleckenstein Brewery, which in the 1850s excavated a series of sandstone caves to age its beer. Though Prohibition felled the brewery, a series of cheesemakers used its cool, arched caves—which are almost on the same latitude as the stinky-cheese mecca of Roquefort, France—to age blue cheese.
"When you think of the microflora floating around the caves, it's a very unique environment," Stutrud says. During his cheese- and brew-filled meetings with Jirik, the duo discussed the ideal beer style for washing blue cheese. While a sweet barleywine is potent enough to match the sharp cheese, it presents a competing flavor profile. "We wanted to leave the blue cheese in the foreground." Stutrud says.
Instead, experimentation led Jirik to wash his cow's-milk St. Pete's Select blue cheese in Summit's seasonal beers, creating the Blues & Brews series. The Winter Blues is painted in nutty, caramel-nuanced Winter Ale, while the Summertime Blues is soaked in piney Horizon Red Ale and the Oktoberfest Blau is bathed in the toffee-hinted Oktoberfest lager. "The wash is there, but it doesn't change the nature of the blue cheese, only enhances it," Stutrud says.
That's a philosophy embraced in dairy-filled Wisconsin, where Sartori soaks a nutty cheese in New Glarus' fruity Raspberry Tart to make Raspberry BellaVitano. Washington's River Valley Ranch bathes its raw-milk Naughty Nellie in the same-named golden ale from Seattle's Pike. And in Newburg, Pennsylvania, Keswick Creamery relies on the beers of fellow Pennsylvanians Tröegs Brewing. In 2009, Mark Dietrich Cochran, who co-owns Keswick with his wife, Melanie, was itching to expand his cheesemaking skill set. He took a course on making an Alpine-style, washed-rind cheese known as Tomme, which is historically bathed in brine. Dietrich Cochran craved more flavor. His instructor suggested cider, "but we didn't have a great source of local cider," says Dietrich Cochran, 39. "We did have a ton of terrific breweries." He reached out to Tröegs' head brewer John Trogner and they discussed the best option for washing the cheese.
Instead of finished beer, they settled on trub. It's the layer of sediment and yeast that's removed after the initial fermentation. Trub is typically waste, but Dietrich Cochran saw value in the yeast-rich byproduct. "It's a very efficient way of washing cheese" and promoting rind growth, says Dietrich Cochran. The trub from the Troegenator doppelbock creates the malt-sweet, lightly hoppy Tommenator (which won gold at 2011's North American Jersey Cheese Awards), while the cherry and honey notes of the Mad Elf Ale imbue the Mad Tomme's rind. Dietrich Cochran also uses Tröegs' fresh-hop beer to give his Tomme a light-gold rind, and he has high hopes for the brewery's cocoa-driven porter. It's all Dietrich Cochran can do to meet consumer demand. "We have people at markets who come and buy our beer-washed cheese every week," Dietrich Cochran says. "When we run out they'll tell us, 'We're not going to buy anything else until you make more.' People can see the influence of local beer on a local product."
Use Your Infusion
While washing cheese with beer only imparts subtle notes, infusing cheese with beer during the production process—and not just beer fondue or Kentucky's popular beer-cheese spread—provides fuller, more recognizable flavors of beer. This technique is popular in Ireland where each bite of tangy Cahill's Irish Porter Cheddar offers marbled swirls of dark beer, and a special version of Kerrygold's nutty-sweet Dubliner cheese is cut through with concentrated Irish stout. You'll also find this alliance in Oregon, where a brewery and a creamery are bonded by name.
"We're kindred spirits," says Rogue Ales' Joyce of the unaffiliated Rogue Creamery, situated in southern Oregon. "They're as unconventional and goofy as we are." Initially, the two Rogues had no pressing desire to team up. Sure, the brewery supplied spent grain to River's Edge Chèvre and Willamette Valley Cheese Company to feeds it livestock, but it never dreamed of dabbling in dairy products itself. But eventually the two Rogues crossed paths. "In Oregon, it's almost like everybody knows everybody," Joyce says. "We got to be friends first, and the collaboration emerged naturally over time."
The brewery provided the creamery with its Morimoto Soba Ale and Chocolate Stout, which were infused directly into a cheddar cheese. "We decided to take the beer and cheese pairing to the next level," says Francis Plowman, 59, Rogue Creamery's marketing and merchandising director. Building upon that project, last year the brewery crafted a strong ale in honor of the creamery's 75th anniversary. It was designed to pair with Hop Cheese, which is made with homegrown Freedom hops that are steeped in hot water and blended with curds and pressed into cheese. "It's not an IPA cheese," Joyce says. "The cheese just picks up enough of the hops' flavor to give you a hint. They're kissing the cheese."
You're the One
One of the challenges of using beer in tandem with cheese is coordinating a synced production schedule. This can be problematic when beer does not behave according to a calendar. "Brewing a lambic and tying it into cheesemaking is an awesome idea, but in practice it's more complicated," explains Jasper Hill's Mateo Kehler.
Winnimere is only produced during the winter, when the farm's Ayrshire heifers produce high-fat, protein-rich milk. The first two years of the project, the dairy relied upon a strict lambic to wash the cheese. Problem was, spontaneously fermented lambics can take years to fully develop. "We weren't getting fast ferments," explains Hill. He began accelerating the process by introducing strains of the wild yeast Brettanomyces and the bacteria Lactobacillus, which ferments cheese. Instead of leaving fermentation up to chance, "I introduced organisms to improve the product."
In 2008, the collaboration between Hill and Kehler was paused for one year while the brewer worked abroad at Denmark's lauded Nørrebro Bryghus brewpub. During that year, Jasper Hill relied on gently bittered Belgian-style ales from regional U.S. breweries to manufacture its Winnimere. The Northeast dined on cheese basted with Brooklyn Brewery's sweet and effervescent Local 9. The Midwest snacked on Winnimere washed with Goose Island's spicy Matilda. The West Coast received cheese anointed with Russian River's strong, dark Salvation. If customers so desired, they could buy a bottle of the same beer used to wash Winnimere. "The size of a large bottle of beer and a wheel of cheese are just about right for each other," Kehler says. "It helps breweries migrate out of the beer aisle and into the cheese department."
After Hill returned to Greensboro in late 2009 and cobbled together equipment to start his own brewery, Hill Farmstead, he resumed his work on Winnimere. He brewed a lightly bittered beer with loads of residual sugars for stimulating yeast growth. The following year, Kehler tried Phenomenology of Spirit, Hill's Brettanomyces-inoculated dark saison fermented in French oak wine casks. Like every Winnimere, it was a hit, but still Kehler sought perfection. To nail it down, he and his staff developed special spider graphs to diagram flavor and began washing cheeses with a range of beers, exploring the specific impact of bitterness, booze and residual sugar. "With sensory analysis, you can really find out which beer works best," Kehler.
In a perfect world, testing would include earlier washes, but none were saved for posterity's sake. "We never had a chance to see how the beer evolved over time," Hill says. Though that research is lost, Kehler is confident that this year's testing will pay off with the perfect Winni-beer named, fittingly, Jasper—a nod to the farm, the brewery and an ancestor of Hill's. "We believe the beer will be the ultimate pairing for Winnimere," the cheesemaker says. "I see so much synergy between the craft brewing and artisan cheese movements. At the end of the day, I believe we're a beer-drinking people."
RELATED CONTENT