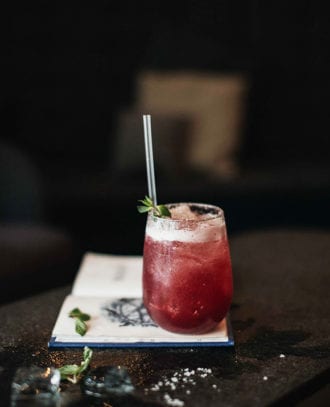 Blackberry and whisky form a brooding base for this cocktail from Baltra in Mexico City.
1½ oz. Scotch whisky
½ oz. apple-infused pisco
¼ oz. spiced syrup
½ oz. fresh lemon juice
2 barspoons blackberry jam
2½ oz. prosecco
Tools: shaker, strainer
Glass: stemless wine glass or rocks glass
Garnish: Mint spring.
Combine the Scotch, pisco, syrup, lemon juice and jam in a shaker with ice. Shake until chilled. Strain into a stemless wine glass over fresh ice and top with prosecco. Garnish.
Apple-Infused Pisco: To infuse a full bottle of pisco, peel 5 apples. Set flesh aside and combine skins with pisco. Let the bottle of pisco sit for 2 days and strain solids from the liquid.
Spiced Syrup: Cut the remaining apple flesh (no cores) into slices. Cut 2 pears (skin-on) into slices. Combine both in a saucepan with 2 cinnamon sticks, 3 star anise bulbs, 1 liter of water and 5 cups of water. Bring to a boil and cook until apples and pears are soft. Remove from heat and let rest until cool. Strain solids out of liquid and store syrup in the fridge.
Daniel Reyes, Baltra, Mexico City 
---
Did you enjoy this recipe? Sign up for our newsletter and get our favorite drink recipes of the moment in your inbox every month.