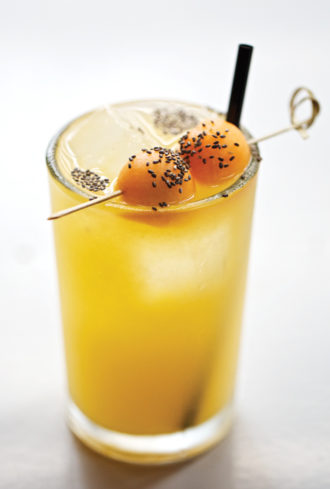 In this cantaloupe cocktail from Houston bartender Bobby Heugel, melons blend beautifully with the flavor of tequila (Heugel recommends using the higher-proof Tequila Cabeza), and the chia-seed and cantaloupe garnish reflects a traditional combination in regions of Mexico.
2 oz. blanco tequila
1 oz. cantaloupe purée
½ oz. agave nectar
¼ oz. fresh lemon juice
Tools: shaker, strainer
Glass: rocks
Garnish: 2 cantaloupe balls on a skewer, dusted with chia seeds (optional)
Shake ingredients with ice and strain into a rocks glass filled with fresh ice. Garnish.
Cantaloupe Purée: Skin a ripe cantaloupe and cut the fruit into chunks, reserving the seeds and pulp. Purée in a blender (with the seeds, which add flavorful complexity) until smooth; press through a fine strainer to remove solids. Refrigerate and use within 2 days.
Bobby Heugel, The Pastry War, Houston, Texas