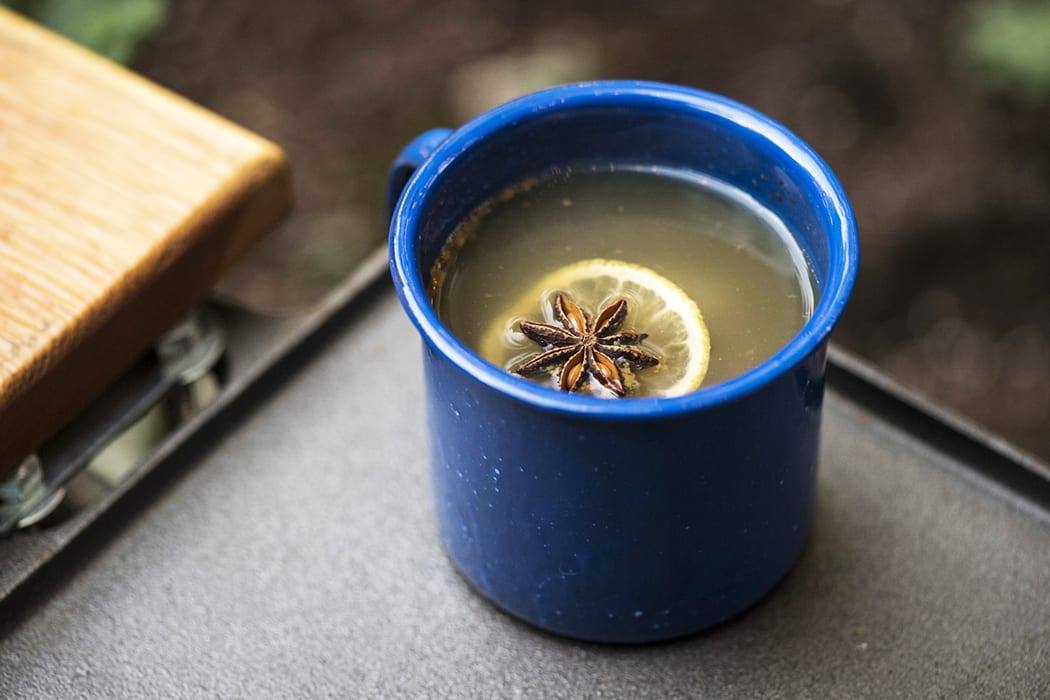 Inspired by the flavors of Scandinavia in the winter, bartender Mike Bohn from the Olmsted in New York City turned to aquavit to spice up his favorite hot apple cider recipe. Instead of mulling the cider, he uses a spiced honey to add complexity, and lemon juice brightens the mix. For the aquavit, he reaches for Linie. "The caraway lingers after each sip, giving a different dimension than you'd get from a brandy or whiskey," he says.
1½ oz. aquavit
6 oz. hot cider mix
Tools: barspoon
Glass: coffee mug
Garnish: lemon wheel and star anise pod
Combine the ingredients in a mug and stir to incorporate. Garnish.
Hot Cider Mix
8 cups cider
⅔ cup spiced honey
½ cup fresh lemon juice
Spiced Honey
Combine 35 grams of black peppercorn, 15 grams of green cardamom pods, 15 grams of star anise, 10 grams of grains of paradise, and a pinch of allspice berries in a spice grinder or blender. Add 1¼ quarts of hot honey syrup (1½ cups honey: 1 cup water) to the mix and blend to incorporate the spices. Pour the mixture into a container and allow it to sit overnight so the spices fully steep into the honey, then strain through cheesecloth before using.
Mike Bohn, Olmsted, NYC