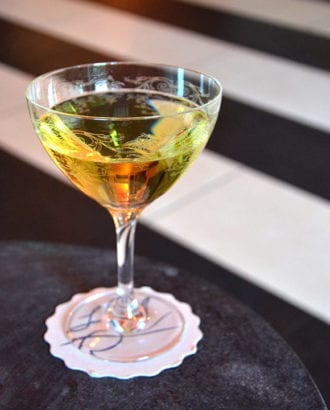 The Alaska cocktail first appeared in the Savoy Cocktail Book as a combo of gin, yellow Chartreuse and orange bitters. At Le Sel in Nashville, bartender Aaron Elam sprays a mist of sherry over the top of the drink for extra aromatics. Don't have a mister on hand? A few drops will do the trick.
2 oz. gin
¾ oz. yellow Chartreuse
2 dashes orange bitters
Amontillado sherry
Lemon twist
Tools: mixing glass, strainer
Glass: coupe
Combine the gin, Chartreuse and bitters in a mixing glass with ice. Stir to chill. Strain into a chilled coupe and either drop a few dashes of sherry on the top, or put the sherry in an atomizer and spray a fine mist over the top. Twist a lemon peel over the drink and discard.
Aaron Elam, Le Sel, Nashville
---
Like what you see? Get more of the best of liquid culture when you sign up for our bi-monthly magazine. Subscribe now and save up to 59%—it's just $21.95 for one year or $32.95 for two years. Click here for details.