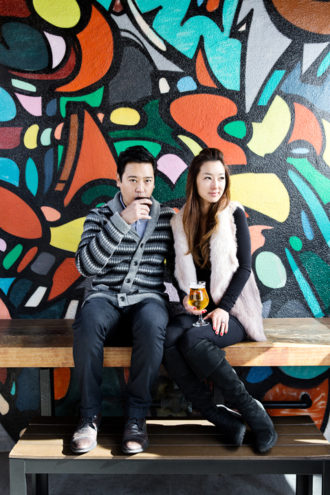 When Jimmy and Yume Han opened Beer Belly in LA's Koreatown neighborhood in 2011, they added a fresh spin to the city's already burgeoning beer culture. We asked Jimmy what spots he thinks should be on the list for every beer-drinking Angeleno. Here are his top picks.
Beer Belly
"Our place, of course," Han laughs. "A lot of people do crawls in Koreatown—they might go to a restaurant, to a bar, or go sing some karaoke—and at any point during the evening, they can stop by Beer Belly and have a fresh beer on tap, and then be on their way to keep exploring Koreatown."
The Surly Goat
"I used to frequent this place before I opened Beer Belly," Han says of this West Hollywood bar that features a 27-deep tap list. "It's a small, dark, kind of dive bar, but it has a top-of-the-line tap list," ranging from California brewers like Russian River and Lagunitas to beers from breweries in Japan, Belgium and Austria.
Smog City Brewing Co.
"They're doing some really fun things with their beer," Han says. "The owner and brewer, Jonathan Porter, makes a great Coffee Porter," along with beers ranging from Lil Bo Pils and an LA Saison to seasonal beers such as Smoked Smaug Lager and Grape Ape IPA.
Beachwood BBQ & Brewing
"This brewpub in Long Beach makes great IPAs and barbecue," Han says. "Their Hop Vader will take you to the dark side…of IPAs."
Eagle Rock Public House
"This brewpub from Eagle Rock Brewery has no-frills food and fresh beer. Their Solidarity is a sessionable English dark mild that, at 3.9 percent [alcohol], showcases the roasting of 12 malts, as opposed to so many West Coast hop-bombs."