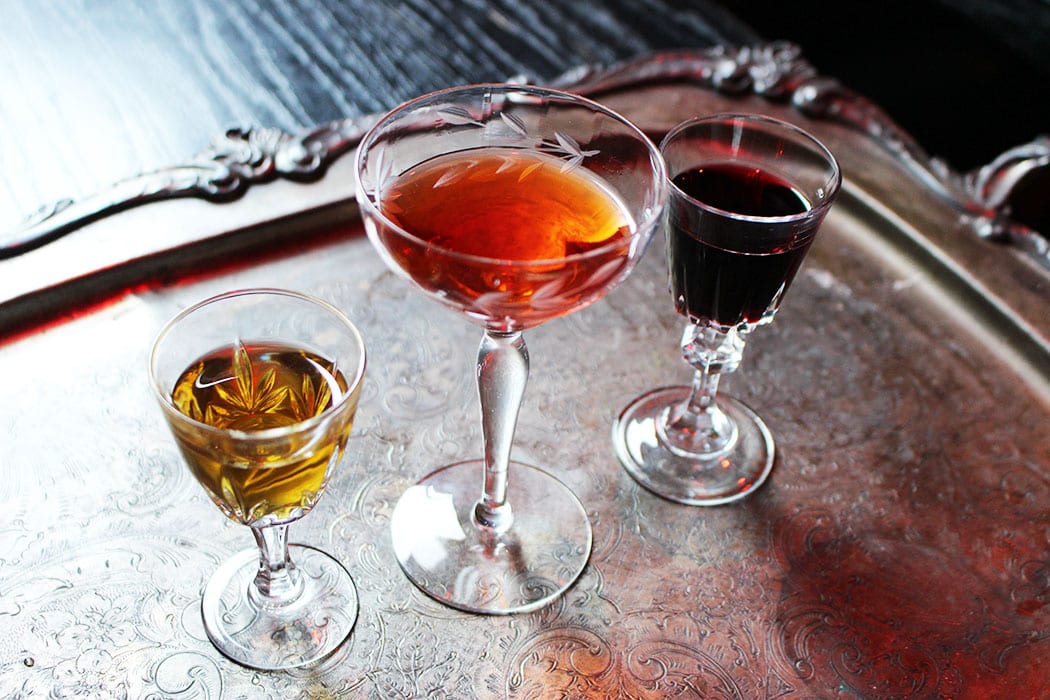 Classically trained chefs don't typically turn their attention to making cocktail ingredients, but that's exactly how Fat Rice's Abe Conlon (one of our 2016 Imbibe 75 people to watch) has established a reputation within Chicago's booming drinks scene.
Conlon's eclectic yet cozy Logan Square restaurant has long sold small-production wines to complement the mélange of Portuguese, Chinese and Macanese comfort foods (a nod to his roots in Portugal). But over the past few years, he started to tinker with ways to use and preserve kitchen ingredients via liquid applications, resulting in a cellar of experiments that became so expansive that Conlon realized he'd need to build a new bar to house them all. Enter The Ladies Room.
The tiny cocktail den located adjacent to Fat Rice opened earlier this year with an interior modeled after the vintage opium dens of Macau. Curiosities like fenugreek and Sichuan peppercorn bitters and a housemade malort—a mix of bitter melon, ginseng root, mushroom and other Chinese herbs that loosely resembles the Scandinavian schnapps—add Conlon's mad-scientist shine to the menu. Not surprisingly, Conlon approaches cocktails more like a chef than a bartender. He admits that making drinks is not his usual wheelhouse, but his approach is thoughtful.
"As a chef I have to understand history, seasons, technique, product, climate, terroir and more to be able to fluently tell a story on a plate through my own perspective. This is where we are similar: the craft of cooking and mixology are both forms of expression, whether that of an individual or of a team."
One of Conlon's goals with this project is to maximize the ingredients they're using at the restaurant. "I saw an opportunity within alcohol to preserve flavor at the highest peak possible and to create something new, different and interesting," he says. "We use our beverage program as a way to use what the farmers are giving us and minimize the amount of waste."
The laundry list of concoctions he's created in the restaurant's packed cellar is nothing short of extensive. Here, Conlon discusses some of the bar's more interesting ingredients, and how his background as a chef influenced their creation.
Vișinată
One summer, my business partner Adrienne and I found a sour cherry tree along the boulevards of Logan Square. We went out late at night with a ladder and, as we picked over 10 pounds of the ripe cherries, we fantasized about what kind of jams, preserves, pies or ice creams we were going to make to please our guests. All these ideas were that of the traditional aspect of applied heat and seasoning. By the time we got to the restaurant the next morning we found out that Onu Aldea—the restaurant's handyman—had other plans. He was pouring sugar over our precious cherries. We were taken aback, exclaiming something along the lines of, "Onu, you didn't!"
What was he making with the cherries was Vișinată: a Romanian cherry liqueur consisting of sour cherries, cane sugar and a relatively neutral spirit—in this case CH Vodka. Through osmosis the sugar pulls the sweetness and juice out of the cherry. The spirit coaxes the bitter almond flavor from the inside of the cherry pit and the vodka dilutes the liqueur into a palatable sweet, cherry-flavored shot that is usually enjoyed after a meal. Cooking is about seizing an opportunity to craft something and take raw elements and turn them into a pleasurable human experience. Onu was doing just that. He was making a treat to share, to express a part of himself and his tradition to communicate in a way we could understand (Onu does not speak English). In doing so he actually taught us a different way of cooking to apply to other aspects of the restaurant. Sometimes we must let go, step back and observe to learn and progress.
Ginjinha
At Fat Rice we focus on the food of Macau and other similar Portuguese Eurasian communities. With that said, in people's minds, we are really the only Portuguese restaurant in Chicago, and we have had many Portuguese expats and one-time travelers inquire if we have Ginjinha—a Portuguese liqueur that is a popular mid-day shot enjoyed with an espresso and a pastry. The drink is part of the rhythm of life in metropolitan Portugal. It's hard to come by in the States, and even if we could get it, for the most part (at least in the examples I have tried), the varieties are crazy-sweet and not all that great.
Ginjinha is made from the ginja berry, which tastes most similar to the sour cherry. And in the summer we have an abundance of sour cherries here in the Midwest that only last a couple of weeks. We took our new-found knowledge of Vișinată, shown to us by Onu and applied it to Ginjinha. Subbing ginja berry for the sour cherry, Copper & Kings brandy for CH Vodka and adding traditional cinnamon, cloves, red wine and less sugar than what is common in the tascas and pastelarias of Portugal, we had created something that not only was unattainable at that point, but also in our minds a better product than we had previously found. Now we have a product that we can share with our homesick Portuguese guests and a new ingredient to apply to our beverage program to tell a story. We use our house Ginjinha in our Old Fashioned along with palm sugar syrup and Angostura bitters.
Onu Țuică
Every year Onu leaves Fat Rice, returning to his farm in Romania to oversee his farm house and orchard. It's a tough time because we have to pick up all of the innumerable tasks it takes to maintain a clean restaurant without him. The first year he returned back to Fat Rice with a water bottle wrapped in aluminum foil, a glimmer in his eye and a curl in his smile he said, "Chefu! (that's what he calls me) Țuică de Struguri! Grape brandy. At that point I was a bit scared because when I was 15, a friend and I got into his grandfather's aguardente (or Portuguese moonshine) stash and it was bad. Really bad. But what Onu brought me was not what I experienced as a teen. It was nuanced, refined and a great example of grappa or aguardente that didn't deserve to be in a plastic water bottle.
I thought about the Midwest and the grapes we have here. They're not the best winemaking grapes and therefore not the best grappa grapes, though we do have a hell of a lot of plums. I asked him, "Can we make this with plums?" "Pruna? Da Cheffu." It was on. I remembered the bruised-up prune plums destined for the compost pile sitting behind the Seedling Farm's stand at the farmers market. I thought maybe we could minimize waste, maximize the farmers' efforts, make something tasty and make Onu famous. He was a talented dog trainer for the police department in Transylvania, but now he scrubs my toilets; I wanted to do something for him.
The search started for collaborators. Luckily, Tremaine Atkinson from CH Distillery was on board. This past year we made three hundred 375 mL bottles from 4,500 Seedling Farms plums. We use it both as a shot and also to deliver a funk to cocktails much in the way maraschino liqueur or rhum agricole provides, but with the essence of Midwestern prune plums. The cocktail we crafted was a mix of Onu Țuică, gin, white vermouth, plum shrub, umeboshi plum vinegar and the Vișinată sour cherry liqueur. Onu, you didn't!
Malört
Chicago has many traditions: from the Chicago dog to blues to Italian beef to (of course) malört—a puckeringly bitter liqueur made from an assembly of herbs and spices. It's hard to ignore the cult following of malört; When I first came to Chicago, after a long night of reuniting with an old friend, we found ourselves at Delilah's, a punk rock whiskey bar in Lincoln Park. My friend insisted that I take a shot, "It's a rite of passage," he said. "If you're going to live in Chicago, then you have to know what this is all about." Despite it's intense flavor, and because of its popularity with chefs and cooks, it began to grow on me. I even found myself bringing bottles of Jeppson's malört to the restaurant kitchens of other cities to watch young cooks make that all-too-familiar "malört face."
When we decided to make malört in house, we wanted to do something that captured the best elements of the drink while mellowing its harsher tendencies. Chinese and Indian bitter melon are the shining star of Fat Rice's malört. These vegetables are so bitter that even with the mere mention that mom would be cooking it for dinner would makes kids cry. But even so, it is hard to ignore its bountiful health properties. Something that tastes that bad must be good for you. Along with the melon, we added Wisconsin ginseng and reishi mushroom. The result was an herbal tincture not dissimilar to traditional Chinese medicine. It wasn't only better tasting than malört, but better for the body as well. Our malört is unique to Fat Rice. It not only speaks to our place here in Chicago, but also ties into the Asian element of our restaurant.
Fat Rice is by no means a Midwestern restaurant. We may source produce and products from the area, but our cuisine is from the other side of the world. That being said, an important part of a restaurant is sense of place. It's the feeling you get when you walk through its doors. At Fat Rice, you're not sure if you're in Macau or Chicago. I think it's an entirely different thing altogether. Now, with the bounty of Autumn at our doorstep, this is a perfect time to capture all the season has to offer. It's a perfect time to connect the bar to the kitchen.