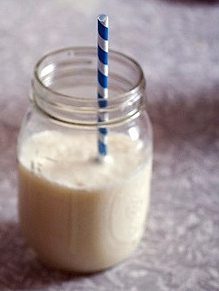 A double dose of vanilla helps bring bourbon flavors to the forefront in this tasty malted milkshake.
2 scoops vanilla ice cream (about 2 cups)
1/2 tsp. vanilla extract
1 Tbsp. malted milk powder
2-4 Tbsp. bourbon, to taste
1/2 cup + 2 Tbsp. milk
Tools: blender
Combine all ingredients and blend until smooth. Divide between 2 chilled glasses and serve with a straw. Serves 2.
Liz Stewart, Saltbird.com